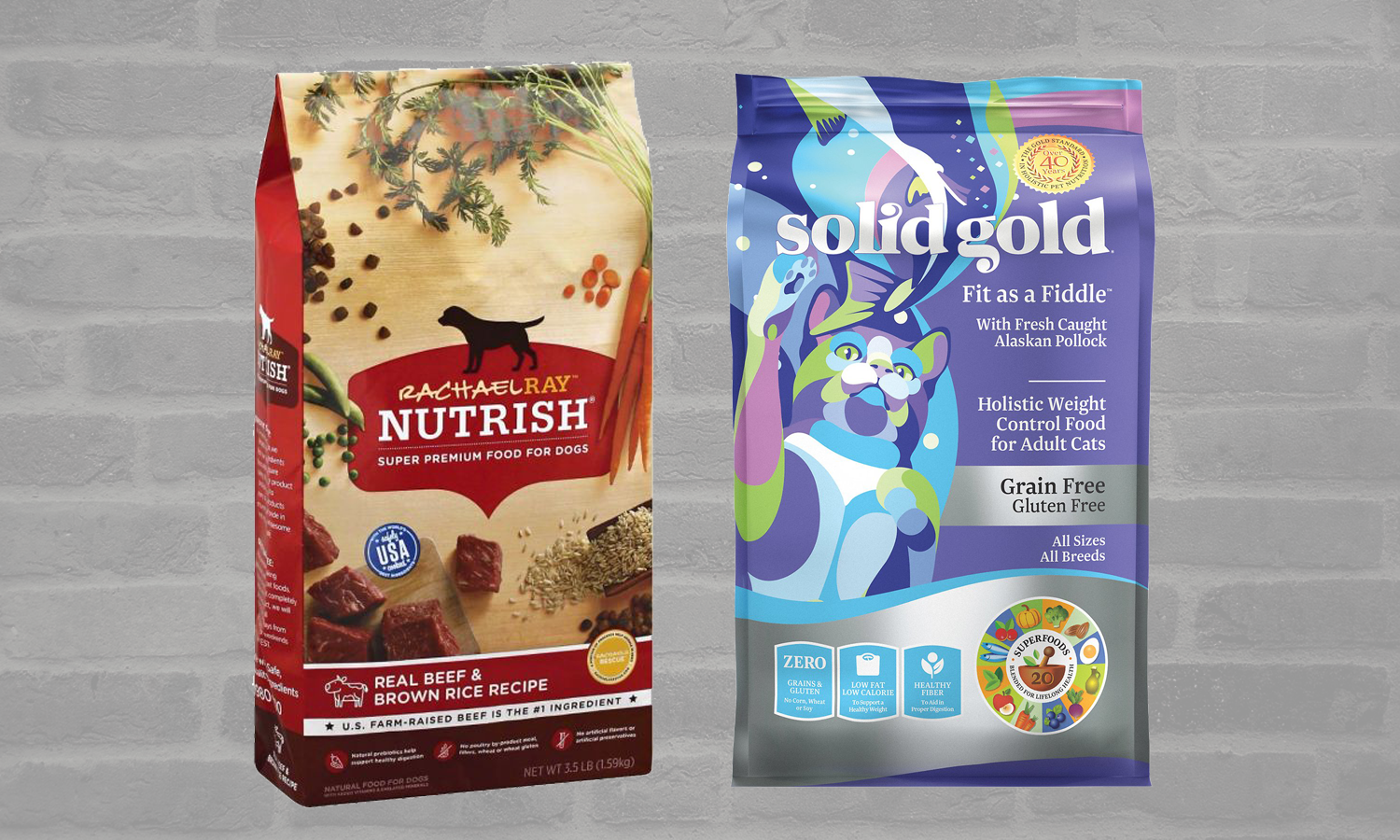 Update: In April 2019, the Nutrish lawsuit was dismissed. It was later amended and refiled — and was then thrown out again by the same judge in February 2020. "The … glyphosate residue is not likely to affect consumer choice," said the judge, adding that using the word "natural" to market the pet food is therefore "not materially misleading to a reasonable consumer."
* * *
Here we go again. Two more popular dog and cat food brands are being sued by pet parents claiming they were misled and deceived.
A pair of new pet food lawsuits have cropped up in recent weeks, and they are just the latest in what appears to be a growing trend of U.S. consumers taking the battle over pet food safety into the courtroom.
This time, the foods under the gun are Rachael Ray Nutrish dog food and Solid Gold cat food.
Nutrish Lawsuit
New York resident Markeith Parks is suing Ainsworth Pet Nutrition, owner/manufacturer of the Rachael Ray line of dog food.
Parks claims that independent testing of dog food he purchased found glyphosate — a chemical normally found in weed killers such as Roundup.
Court documents claim, "Rachael Ray Nutrish aggressively advertises and promotes the products as 'natural.' These claims are false, deceptive, and misleading."
The $5 million lawsuit goes on to state, "The products at issue are not 'natural.' Instead, the products contain the unnatural chemical glyphosate, a potent biocide and endocrine disruptor, with detrimental health effects that are still becoming known."
According to Dogs Naturally magazine, glyphosate is actually a common "hidden" pet food ingredient. In a 2015 study, researchers Anthony Samsel and Stephanie Seneff tested 9 popular brands of dog and cat food — and every single one of them came back with "significant" levels of glyphosate.
"We suspect that glyphosate may be a causal agent related to the rise of pet cancers," the researchers wrote.
J.M. Smucker — the pet food industry giant that recently purchased Ainsworth Pet Nutrition (and is already defending itself against "jaw-dropping" allegations in a class-action lawsuit stemming from this year's massive Gravy Train recall) — refutes Parks' claims.
"We are in the process of reviewing the details of the claim but strongly stand behind the quality of our products, ingredients and sourcing practices," Bobby Modi, Smucker vice president for pet food and snacks, said in a statement. "As animal lovers and humans, it goes without saying that we do not add pesticides to our products as an ingredient. We plan to aggressively fight these claims."
The U.S. Environmental Protection Agency considers glyphosate to be of minimal risk to humans, with slightly higher toxicity impacts to wildlife.
Parks' suit rests on the fact that Nutrish is marketed as a natural food yet allegedly failed to disclose the presence of a chemical on the packaging, and that "no reasonable consumer, seeing these 'Natural' representations, would expect that the Products contain unnatural chemicals."
Solid Gold Lawsuit
Meanwhile, California resident Valerie Watson is suing pet food company Solid Gold Pet, alleging that its Solid Gold cat food contains "heavy metals, chemicals and/or toxins" that are not disclosed on the packaging.
In addition, the suit claims:
Was YOUR Pet Food Recalled?
Check Now: Blue Buffalo • Science Diet • Purina • Wellness • 4health • Canine Carry Outs • Friskies • Taste of the Wild • See 200+ more brands…
"Defendants engaged in deceptive, misleading and false Marketing practices by expressly representing the Contaminated Cat Foods as possessing the Quality Claims despite the presence of BPA and Heavy Metals.…"
Third-party testing, according to the lawsuit, has revealed the presence of metals such as arsenic, cadmium, mercury and lead in the cat food. However, research by Petful found that the levels all appear to be below the "maximum tolerable limits" generally recognized by authorities.
The testing also found bisphenol A (BPA), a controversial industrial chemical, in some of the Solid Gold cat foods.
The highest amount of BPA among the foods tested was 169.7 μg/kg, found in Solid Gold Grain Free High Protein With Chicken. But even this would still be within the range of BPA that has been found in pet foods in the past.
Solid Gold has been quiet — as this article was being written, there was no mention of the suit on the company's social media pages or website. There has also been little news coverage of this suit, unlike the Nutrish suit.
On its website, the company discusses its safety protocols, stating, "Solid Gold oversees the manufacturing process of products from partnering with qualified ingredient suppliers, to receipt of high quality ingredients, recipe blending, and lab testing samples from each batch that is produced."
"We operate a 'positive release' program with all our foods," the company adds. "When a batch of food is made, samples are taken from the batch and sent to a lab for various analyses, including testing for pathogens, such as salmonella. Only when the results arrive and are approved is the food released to our warehouse for distribution."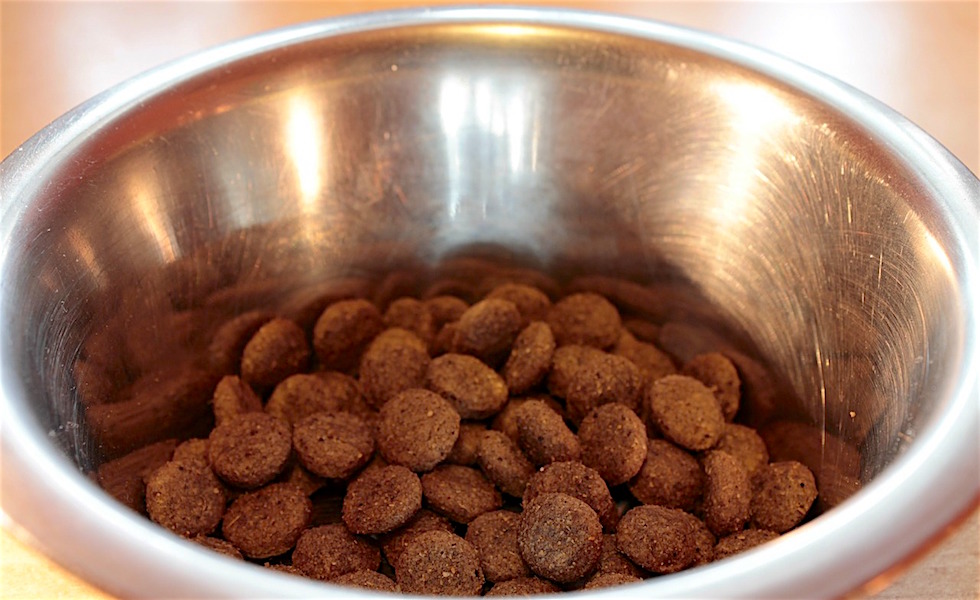 Ingredients "Should Be Declared," Says FDA
In both cases, the plaintiffs contend that the pet food companies are — at best — using false or deceptive marketing practices by deliberately leaving ingredients with negative connotations off their packaging.
We reached out to the Food and Drug Administration (FDA), and Anne Norris, a health communications specialist, told me, "The agency is unable to comment on pending litigation. However, speaking generally, if a product contains an ingredient, it should be declared in the ingredient list."
She added: "Contaminants are almost never added to food intentionally, so they are unlikely to be included in an ingredient list. However, even if a firm knew about the contaminant and included it in the ingredient list, it would still be in violation of FDA regulations if the contaminant is present in a quantity sufficient to potentially pose harm to pets or humans."
The Rise in Consumer Lawsuits
As we've reported before when the maker of Orijen and Acana pet foods was sued earlier this summer, these types of lawsuits appear to be the consumer weapon of choice these days when faced with a federal safety agency — the FDA — that is often seen as far too slow to respond to potential pet food safety problems.
Let's just quickly run down the list of some of the lawsuits that are active right now:
Remember this: Lawsuits are just a collection of unproven allegations.
"Unlike recalls, lawsuits are based on complaints and accusations only," says Mike Sagman, managing editor of Dog Food Advisor. "If you'll Google the name of almost any major brand, you'll likely find hundreds of complaints, claims and lawsuits for many of their products."
Before you jump to conclusions, take some time to do a little digging of your own:
Research your pet food company. Look up its recall history, its ingredients labels and its mission statements.
If there is an incident — like any of the lawsuits mentioned above — find the details and read them thoroughly.
Talk with your veterinarian. Tell them your concerns and ask for an honest opinion of the food.
Learn how to read pet food labels and practice this skill diligently in the store. Pet food companies change recipes without notifying consumers all the time, so periodically check labels to ensure nothing's changed.
Take some time to read and understand how the FDA regulates pet food.