⚠ Important recall information appears below.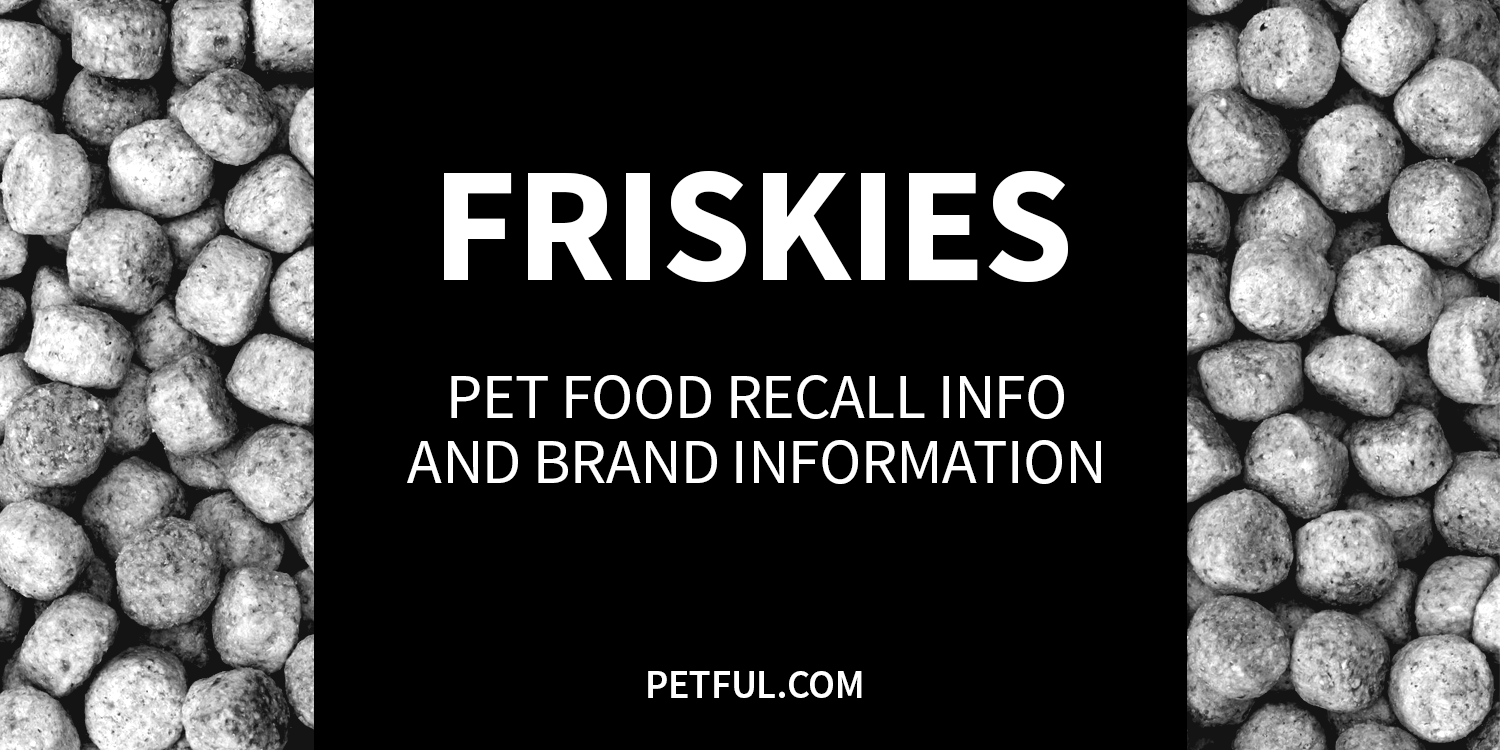 Friskies began life as a Carnation Company brand. Originally founded as a producer of evaporated milk, Carnation sought to diversify by branching into the pet food business in the 1930s, and Friskies was its first entry.
Friskies became a smash hit in the 1930s and '40s — though the Friskies of those days was much different from the Friskies of today, for reasons we will explain below.
Today, Friskies is owned by Nestlé Purina PetCare. It is one of the most well-known, enduring brands of cat food ever, sold in literally dozens of varieties.
Below, we share much more information about the long history of Friskies — including up-to-date Friskies recall information.
Friskies Quick Facts
Brand line includes: Friskies Indoor Cat Food Chunky Chicken & Turkey Casserole, Friskies Wet Cat Food Tasty Treasures Chicken & Ocean Fish Dinner with Cheese, Friskies Cat Treats Party Mix Naturals With Added Vitamins & Minerals With Real Salmon
Cost: $
Where to buy: Latest deals on Friskies cat food
Company: Nestlé Purina PetCare Company
Headquarters: 1 Checkerboard Square, St. Louis, MO 63164
Contact info: 1-800-778-7462, email
Company History: Friskies Used to Be a Dog Food
In the early 1930s, Friskies began as a dry dog food.
It was sold in Friskies Meal and Friskies Cubes forms, with the latter being described as like serving your dog "a 6-course dinner in one dish," with meat, liver, milk, fish, vegetable and chicken in crunchy, bite-sized chunks.
In the early 1950s, a canned version of Friskies Dog Food hit store shelves, and it was the world's first canned dog food. The "flavor secret," at least according to one advertisement in LIFE magazine, was "lean red horse meat, and lots of it."
After years of soaring sales of Friskies Dog Food, the Carnation Company finally began producing a cat food in 1956. It was originally called Little Friskies for Cats.
It, too, was a historic launch — Friskies was said to be the first-ever dry pet food made specifically for cats. "Even the fussiest cats love Friskies," ads boasted.
A Hugely Successful Cat Food Brand
By the 1970s, Friskies had become a cat food powerhouse: not only the second best-selling canned cat food (behind 9Lives), but also the second best-selling dry cat food (behind Purina Cat Chow).
Innovations by Friskies over the years included:
Friskies Buffet, sold in single-serving cans starting in 1967
Friskies Bright Eyes, one of the first gourmet cat foods, launched in the early 1970s
Friskies Kitten Formula, a calcium-fortified dry food in a milk carton package, rolled out in 1988
Grumpy Cat, the internet-famous cat with a permafrown, became the official "spokescat" for the Friskies brand in 2013
Lots of Company Changes — Plus, "Friskies Alpo"?
In 1984, Swiss food conglomerate Nestlé S.A. announced it was acquiring Carnation Corporation, including its pet food lines like Friskies, and the $3 billion deal was finalized in 1985.
In 1992, the Friskies pet food division was established as a Nestlé SA subsidiary called Friskies Petcare Company Inc., with headquarters in Glendale, California.
In late 1994, it was announced that Alpo would soon be folded into Friskies Petcare, and for a time there was even a "Friskies Alpo" cat food. Eventually, though, Friskies would become exclusively a cat food brand, with the company commenting that the name "Friskies" simply sounds more suitable for felines.
In 2001 came more change, when Friskies Petcare was combined with Ralston Purina Company in an $11 billion deal. The resulting company was called Nestlé Purina PetCare, and it married the Friskies and Alpo brands with the Purina line of Dog Chow, Cat Chow and Pro Plan pet foods.
Nestlé Purina PetCare has its North American headquarters in St. Louis, Missouri, where Ralston Purina was founded (as Purina Mills) in 1894.
As of 2020, Nestlé Purina PetCare was the No. 2 pet food company in the world, with nearly $14 billion in annual revenue, according to data provided by Pet Food Industry.
Was YOUR Pet Food Recalled?
Check Now: Blue Buffalo • Science Diet • Purina • Wellness • 4health • Canine Carry Outs • Friskies • Taste of the Wild • See 200+ more brands…
At the No. 1 spot was Mars Petcare Inc., with annual revenue of more than $18 billion.
Other Nestlé Purina brands include:
Friskies Safety
Nestlé Purina PetCare says it places an emphasis on quality and safety throughout every step of food production, from sourcing of ingredients to processing and distribution.
"At Purina, we always put the pet first, and we ensure the safety and quality of our food through our people, technology, scale and rigorous internal and external standards," the company said in a 2016 "shared value" report.
13 Oz. Cans of Friskies Discontinued
As of late 2019, the 13 oz. size cans of Friskies have been discontinued. The cat food is still available for sale in 5.5 oz. cans.
Has Friskies Ever Been Recalled?
Yes, there was a Friskies cat food recall a few years ago. Back in June 2011, a Friskies dry food product was recalled voluntarily because of possible salmonella contamination. There were no illnesses of pets around the time of the recall, which involved 870 bags of Friskies Grillers Blend dry cat food.
Complete information about the 2011 recall appears below. First, though, let's talk about some recent rumors …
Has There Been a 2020 Friskies Cat Food Recall?
No. There is no current Friskies cat food recall.
Since at least 2018, internet rumors have been circulating that certain cans of Friskies cat food, usually paté varieties, are "contaminated" and making cats sick.
Some people even claim their cats or kittens have died as a result of eating the food.
These rumors cite specific supposed "batch numbers" — usually the numbers are stated as being 1157, 1159 and 1161. Sometimes batch codes are said to be double-stamped or to have a pink dot or a red dot.
Here's an example of a photo that was shared on Facebook:
Many recent consumer reviews on ConsumerAffairs.com (which is not affiliated with the government and is a for-profit website) have alleged serious problems, and public petitions have been started online to "make Purina recall the tainted Friskies cat food."
An anti-Friskies Facebook page has been posting regular "alerts," calling the products "toxic waste" and claiming that "Purina is not doing anything but taking the money and getting the cats sick."
At Petful, we too have been noticing an increase in the number of complaints about Friskies.
However, despite all the recent rumors, there has been no Friskies cat food recall in 2019 or 2020, and Purina maintains that there is no problem with the food.
For example, on the official Facebook page for Friskies, a company representative commented in late July 2019, "There are no recalls on any of our products; they are all 100% safe to feed."
Separately, another Facebook comment from the company stated:
"Consumers can continue to feed our products to their pets with total confidence. There are no product quality issues with any of our products. All of our products, including Friskies, are completely safe to feed. We value the loyalty and trust pet owners have given Purina for more than 90 years. We're pet owners, too, and we work hard to maintain that trust, because the quality and safety of our products are our top priorities. We always appreciate hearing from our consumers, and we encourage anyone with a question or comment about our products to call us."
By the way, the supposed "batch codes" of 1157, 1159 and 1161 don't mean what most people think they do. These specific number sequences have frequently appeared on the bottom of Friskies cans — for years now.
In other words, if you pick up a can of Friskies, whether it was 5 years ago or today, chances are — lo and behold — you'll see one of those 3 number sequences stamped on the bottom. This doesn't actually mark the cans as anything special.
Rather, we think the numbers most likely denote a fixed manufacturing facility, not a specific production batch. (In the event of a recall, the "best before" dates would likely be more meaningful.)
So, long story short: The rumors around a 2020 Friskies cat food recall are just that — rumors. Take those rumors with a grain of salt, as you should with pretty much anything you see on social media these days.
Of course, if anything changes, we'll update this article right away and, if warranted, we'll urgently send out a recall alert to our email subscribers.
List of Friskies Recalls
June 2011
Cause: Potential for salmonella. Announcement: Company press release dated June 27, 2011 (archived here). What was recalled: Friskies Grillers Blend dry cat food, 3.15 lb. and 16 lb. bags, Production Code #10381083 06, best by August 2012.
If you have not done so already, we urge you to sign up now for Petful's FREE recall alerts by email. Our free alerts are saving pets' lives.
Have You Had a Problem With Friskies Cat Food?
See our reporting page for contact info.
Leave a comment below to share your experience with others.
References
+ Click to see the sources for this article.