♥ No recalls.
Canine Carry Outs have been around since the early 1990s. They are widely available at grocery stores as well as at big pet store chains like PetSmart and Petco.
Below, you can learn more about these popular treats — including up-to-date Canine Carry Outs recall information.
Canine Carry Outs Quick Facts
Brand line includes: Canine Carry Outs (Beef Flavor, Bacon Flavor, Steak Bites, Sausage Links, Pot Roast Flavor, etc.), Canine Carry Outs Minis, Canine Carry Outs Chew Bones, Canine Carry Outs Chew-Lotta
Cost: $
Company: Big Heart Pet Inc. (a subsidiary of J.M. Smucker Company)
Headquarters: One Maritime Plaza, San Francisco, CA 94111
Contact info: 1-800-252-7022, email, website
Canine Carry Outs History
Canine Carry Outs had their big debut in 1991. Originally, they were sold in packages said to resemble restaurant doggy bags.
Back then, these treats had the "Ken-L Ration" name on the packages and were part of the Quaker Oats Company portfolio of pet products, which also included Gravy Train, Kibbles N' Bits, Pup-Peroni and Pounce. Of course, this industry being what it is, lots of corporate changes lay ahead.
In 1995, the H.J. Heinz Company spent $725 million to acquire Quaker's pet food operations. Quaker had decided to double down on people food and exit the pet food business.
Then, following a merger just a few years later, Canine Carry Outs in 2002 became part of the Del Monte Foods portfolio of pet food brands.
Years of Success With Del Monte
Del Monte, once better known for canned green beans and ketchup, had begun repositioning itself as a pet food maker in the early 2000s. The company had its headquarters in San Francisco.
In 2007, Pet Food Industry reported that a full 40% of Del Monte's sales came from its lineup of pet food and treats.
The publication noted that Del Monte stayed ahead of a couple of big trends: the consumer need for dog and cat foods that maintain their pets' health, and the need to give pets an equal footing with other family members.
"We do a lot of work to mine insights associated with certain consumer segments in the mass market, particularly what we call the 'Dogs and Cats are People Too' consumer segments, explained Jeff Watters, senior vice president of Del Monte Pet Products.
Canine Carry Outs became a brick in the overall success of Del Monte as it successfully came to dominate the pet food industry.
More Corporate Changes: Here Comes Smucker
To reflect its new direction, Del Monte renamed itself Big Heart Pet Brands in 2014, following a sale of all of Del Monte's people-food assets. That's the same year the company became the "largest standalone pet products company in North America," again, according to Pet Food Industry.
By relinquishing the well-known brand name Del Monte, the company affirmed that it would focus exclusively on the pet industry.
Canine Carry Outs changed hands once again in 2015, when the J.M. Smucker Company bought Big Heart Pet Brands. Smucker paid the handsome sum of $5.8 billion.
In the next section below, we discuss the Canine Carry Outs recall history.
Was YOUR Pet Food Recalled?
Check Now: Blue Buffalo • Science Diet • Purina • Wellness • 4health • Canine Carry Outs • Friskies • Taste of the Wild • See 200+ more brands…
Have Canine Carry Outs Ever Been Recalled?
No. Despite persistent rumors over the past several years of a "Canine Carry Outs recall," this brand of dog treats has never been recalled, according to research by Petful.
The following is an example of some of the rampant recall rumors about Canine Carry Outs. We rate this as FALSE:
Rumors of a Canine Carry Outs Recall Are Not True
Rumors have been circulating online since at least 2015 that Canine Carry Outs contain a type of antifreeze in the ingredients that has been making pets sick.
One rumor that quickly spread around social media went so far as to claim that a dog named Milo had his stomach explode after eating Canine Carry Outs. (We seriously doubt that really happened.)
The treats are "poison," allege multiple posts from concerned consumers online. "Just terrible…. Awful!"
However, the ingredient — called propylene glycol — is very different from ethylene glycol, which is used in antifreeze for vehicles. Propylene glycol is recognized by pet food regulators as generally safe in dog food. (With that said, propylene glycol is not safe in any amount in cat food, and in large amounts it can be toxic to dogs, too. Personally speaking, we at Petful don't like seeing propylene glycol in ingredients lists.)
The recall rumors swelled to a fever pitch in April 2016, when a veterinarian posted a dramatic warning on Facebook. Dr. Chloe Charlton, DVM, posted a photo of Canine Carry Outs on her Facebook page, along with text that began, "DO. NOT. FEED. THESE. TO. YOUR. DOG."
In her post, which quickly went viral, Dr. Charlton claimed that a "report to the FDA has come back conclusive."
Some people who commented below her post were rightly skeptical. One of them asked: "So the FDA confirmed that something in these treats caused the illness?"
"Yup!" came the reply from Dr. Charlton, who suggested hidden melamine may be to blame.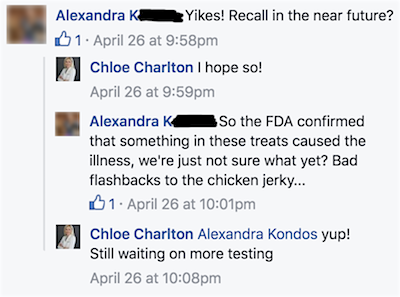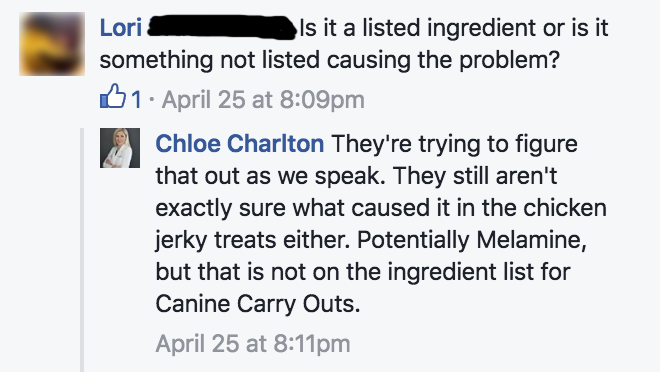 A few days later, Dr. Charlton followed up.
"This is the FDA report that I referenced in my original post," she said in a new post. "They recommended removal of these treats." In red pen, she circled a phrase in a photo of a letter: "removal of all jerky treats is recommended."
No, That Was Not an "FDA Report"
Here on Petful, a reader posted: "[Dr. Charlton] has 100% concluded these treats are harmful. She also has a picture of the FDA report…. The FDA concluded it was that specific treat."
That's simply not true, and we feel compelled to clear up these rumors.
Here's the truth: The U.S Food and Drug Administration (FDA) did not issue that "report." The agency has never said something in these treats caused illnesses, nor has it ever recommended removal of Canine Carry Outs from the market — or mandated a recall.
Despite being labeled "FDA REPORT" in big red type (text that had been added to her photo of the letter by Dr. Charlton herself), this "report" was only a summary of urinalysis results from a dog, issued by an FDA-affiliated testing facility.
This small dog had been fed Canine Carry Outs (Beef Flavor) every day for a year, according to Dr. Charlton. And the urinalysis results seemed to "indicate the presence of Fanconi syndrome" in the dog, according to the letter from the lab. The treats themselves were not tested.
The letter recommended only that jerky treats be removed from that specific dog's diet — it did not recommend any sort of market withdrawal or recall of Canine Carry Outs — not that the lab would have had such recall authority anyway.
The FDA, in a statement to Petful, confirmed: "The Facebook posts you are asking about are not citing an FDA report, and the red lettering was not added by the FDA or the testing lab. It is not an FDA warning, and the agency has not taken any action against Canine Carry Outs."
"Yelling Fire in a Crowded Theater"
The veterinarian's posts didn't escape the attention of a few skeptical consumers.
For example, one commenter posted: "Wow, and yet you claimed you had an FDA report about the treats, not a urinalysis that has nothing to do with your original claim.… "What [you've] done amounts to yelling fire in a crowded theater."
Another commenter chimed in: "You had stated that the FDA recommended discontinuing these treats. That makes it sound like a possible recall, or ban. [But it was] more like a recommendation for the one dog and not as a whole…. I hate to spread false or inaccurate information."
Finally, yet another commenter pointed out that the "Canine Carry Outs" brand name was not even mentioned in the letter from the lab.
"Better Safe Than Sorry," Says Dr. Charlton
Dr. Charlton defended herself on Facebook, saying, "Since I made the post, other vets have contacted me saying they have seen a similar case."
She added: "I say it's better safe than sorry. I felt that if I could save a life through a Facebook post, it was worth it."
She also began walking back some of the talk about "conclusive" evidence, writing, "The FDA is still performing tests, and there are still a lot of unanswered questions."
Contacted by Petful, Dr. Charlton declined to comment, telling us, "I don't think I'll be doing the interview. Thank you for thinking of me."
Canine Carry Outs Responds to the Rumors
The J.M. Smucker Company, the company that makes Canine Carry Outs, has vigorously defended the treats.
"We are extremely disappointed in the inaccurate information circulating online regarding our Canine Carry Outs products," said Maribeth Burns, vice president of corporate communications, in a 2016 interview with Petful. "For nearly 120 years, product safety and quality have been of paramount importance to our company."
She added: "Canine Carry Outs do not contain melamine and are not a 'jerky treat' like those referenced in the document."
Final Thoughts
Of course it's possible that there was indeed a problem with the treats that led to sickness in the dog. We just don't know that for sure.
Here at Petful, we have seen a few anecdotal stories from people who say their dogs got very sick or even died after eating Canine Carry Outs. In addition, these treats have what we'd consider to be subpar ingredients, such as corn syrup, animal fat, animal digest, BHA, artificial colors and flavors — and the aforementioned propylene glycol.
Yet there is no FDA recall or warning. "We can confirm that there is not a recall on the Canine Carry Outs products and brand," said Burns of J.M. Smucker.
Of course, if anything changes and these popular treats do actually get recalled, we will update this article right away and send out an urgent pet food recall alert to our email subscribers.
If you have not done so already, we urge you to sign up now for Petful's FREE recall alerts by email. Our free alerts are saving pets' lives.
Have You Had a Problem With Canine Carry Outs?
See our reporting page for contact info.
Leave a comment below to share your experience with others.
References
Davis, Sue. "Pet Food Processors Opt for Nutrition." Prepared Foods 161, no. 4 (April 15, 1992): 97.
"New Gourmet Treats for Dogs (Advertisement)." Daily Breeze (Torrance, California). July 14, 1991.
Dressler, Catherine. "Heinz Buys Quaker Oats Pet Food Business for $725 Million." Associated Press. Feb. 6, 1995. https://apnews.com/62ad3357d70b441792e44ea536e28fd5.
"A Happy, Tail-Wagging Dog Is in Your future." Business Wire. Sept. 1, 2006. https://www.businesswire.com/news/home/20060901005105/en/Happy-Tail-Wagging-Dog-Future…-New-Snausages-Fortunes.
Kvamme, Jenny, DVM. "Great Brands, Great Future: Del Monte Focuses on Powerful Trends." Pet Food Industry. June 4, 2007. https://www.petfoodindustry.com/articles/378-great-brands-great-future.
"Del Monte Foods Pet Products Relaunches as Big Heart Pet Foods." Pet Food Industry. Feb. 21, 2014. https://www.petfoodindustry.com/articles/4149-del-monte-foods-pet-products-relaunches-as-big-heart-pet-brands.
Fusaro, Dave. "Del Monte Foods Becomes Big Heart Pet Brands." Food Processing. March 9, 2014. https://www.foodprocessing.com/industrynews/2014/del-monte-becomes-big-heart-pet-brands/.
"Big Heart Pet Brands to Be Acquired by the J.M. Smucker Company." Business Wire. Feb. 03, 2015. https://www.businesswire.com/news/home/20150203006713/en/Big-Heart-Pet-Brands-Acquired-J.M.-Smucker.
"J.M. Smucker Adds Major Pet Food Brands in 'Transformational' $5.8 Billion Purchase." Akron (Ohio) Beacon Journal. Feb. 4, 2015. https://www.beaconjournal.com/article/20150204/NEWS/302048782.
"The J.M. Smucker Company Completes Acquisition of Big Heart Pet Brands." PR Newswire. March 23, 2015. https://www.prnewswire.com/news-releases/the-j-m-smucker-company-completes-acquisition-of-big-heart-pet-brands-300054566.html.
Charlton, Chloe, DVM. "DO. NOT. FEED. THESE. TO. YOUR. DOG." Facebook. April 25, 2016. Archived at https://www.petful.com/wp-content/uploads/2020/06/Chloe-Charlton-DO.-NOT.-FEED.-THESE.-TO.-YOUR.-DOG.-I…-_-Facebook.pdf.
"Melamine Pet Food Recall of 2007." U.S. Food and Drug Administration (FDA). Sept. 4, 2018. https://www.fda.gov/animal-veterinary/recalls-withdrawals/melamine-pet-food-recall-2007.
"Propylene Glycol." Pet Poison Helpline. https://www.petpoisonhelpline.com/poison/propylene-glycol/.
Charlton, Chloe, DVM. "Update: This Is the FDA Report That I Referenced in My Original Post." Facebook. May 4, 2016. Archived at https://www.petful.com/wp-content/uploads/2020/06/Dr.-Chloe-Charlton-May-4-2016.pdf.
Email exchange with Dr. Chloe Charlton, DVM, and Petful publisher Dave Baker. July 30, 2016.
Interview with Maribeth Burns, vice president of corporate communications, J.M. Smucker Company, conducted by Petful's Dave Baker. Aug. 2, 2016.
Interview with Anne Norris, Office of Foods and Veterinary Medicine, FDA, conducted by Petful's Dave Baker. Aug. 10, 2016.