⚠ Important Blue Buffalo recall information appears below.
Blue Buffalo was founded in 2002 by Bill Bishop. The company proudly advertises its natural approach to premium dog and cat food and products. The company was named after Bishop's Airedale Terrier, Blue.
Blue Buffalo produces dry and canned cat and dog food, treats for cats and dogs, and a natural cat litter.
Blue Buffalo Quick Facts
Brand line includes: Blue Buffalo BLUE Life Protection, Blue Buffalo Freedom, Blue Buffalo Wilderness, Blue Buffalo Basics, Blue Buffalo Homestyle Recipes, Blue Buffalo Divine Delights, Blue Buffalo BLUE Chunky Stew, and a variety of Blue Buffalo treats for cats and dogs
Cost: $$$
Where to buy: Latest deals on Blue Buffalo
Company: Blue Buffalo Company, Ltd.
Headquarters: 444 Danbury Road / P.O. Box 770, Wilton, CT 06897
Contact info: 1-800-919-2833, website
Has Blue Buffalo Ever Been Recalled?
Yes, there have been a number of Blue Buffalo recalls over the past decade.
However, before we detail the recall history for Blue Buffalo, we first want to alert readers to the fact that, in late June 2019, the U.S. Food and Drug Administration (FDA) identified Blue Buffalo as one of 16 pet food brands that may be linked to heart disease in dogs and cats. None of those 16 brands have been recalled as part of the agency's ongoing investigation, though. Most, but not all, of the pet foods are "grain-free" and/or dry (kibble) dog food formulations.
The FDA says this is a "complex scientific issue that may involve multiple factors," and that it cannot even be certain that diet is a cause of the heart problems.
For full details, see our article on the subject.
We also want to point out that despite rumors, there has been no so-called "Blue Buffalo lead recall." A lawsuit filed in June 2017 claims that 3 Blue Buffalo dog foods (Blue Wilderness Chicken Recipe for Small Breed Adult Dogs, Blue Freedom Grain-Free Chicken Recipe for Small Breed Adult Dogs, and Blue Basics Grain-Free Turkey & Potato Recipe for Adult Dogs) contained very high levels of lead, but those allegations have not been proved, and there has been no recall because of lead.
Now let's talk about what HAS been recalled from Blue Buffalo in the past …
Most recently, in March 2017, Blue Buffalo recalled a brand of canned dog food because of potentially excessive levels of beef thyroid hormone (a Wellness brand of canned dog food was also recalled for the same reason).
A month earlier, in February 2017, Blue Buffalo recalled some cans of its Homestyle Recipe dog food because of possible metal (aluminum) contamination. Also that month, the company recalled wet dog food cups because of a packaging problem.
In 2016, moisture problems and the possibility of mold prompted a limited recall of some Blue Buffalo sweet potato–flavored dog food.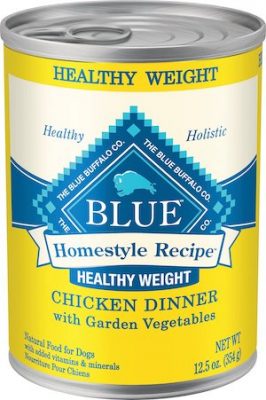 In fall 2015, there was a Blue Buffalo recall on a single lot of some chew bones. The cause was listed as potential salmonella contamination. Less than 3 weeks earlier, a limited number of Blue Kitty Yums cat treats were pulled from shelves following reports of propylene glycol, which is unacceptable in cat treats under FDA guidelines.
In 2010, Blue Buffalo voluntarily recalled a few products because of a "sequencing error" made by an ingredient supplier. The supplier had conducted a previous processing of Vitamin D in which some carryover may have contaminated the products.
Finally, in 2007, the FDA confirmed the presence of melamine in rice protein concentrate in food manufactured by American Nutrition, Inc. for Blue Buffalo. Blue Buffalo denied knowledge or consent of the additive being in the product. As a result of the recall, Blue Buffalo pulled all of its manufacturing from American Nutrition, Inc., even including products not listed in the recall.
Next, we list the full details of every Blue Buffalo pet food recall over the years.
Complete Blue Buffalo Recall List
March 2017
Cause: Potential for elevated levels of naturally occurring beef thyroid hormone. Announcement: NASDAQ Global News Wire report dated March 17, 2017. What was recalled: Wilderness Rocky Mountain Recipe Red Meat Dinner Wet Food for Adult Dogs, 12.5 oz. can, UPC #840243101153, best by June 7, 2019.
February 2017
Cause: Packaging quality. Announcement: PetSmart announcement dated Feb. 28, 2017 (archived here). What was recalled: The following Blue Buffalo dog food cups:
Divine Delights Filet Mignon Flavor in Gravy, UPC #84024312035
Divine Delights New York Strip Flavor in Gravy, UPC #84024312037
Divine Delights Prime Rib Flavor in Gravy, UPC #84024312039
Divine Delights Rotisserie Chicken Flavor in Gravy, UPC #84024312041
Divine Delights Pate Filet Mignon Flavor, UPC #84024312043
Divine Delights Pate Porterhouse Flavor, UPC #84024312045
Divine Delights Pate Grilled Chicken Flavor, UPC #84024312047
Divine Delights Pate Top Sirloin Flavor, UPC #84024312049
Divine Delights Pate Angus Beef Flavor, UPC #84024312051
Divine Delights Pate Roasted Turkey Flavor, UPC #84024312053
Divine Delights Pate With Bacon, Egg & Cheese, UPC #84024312057
Divine Delights Pate Sausage, Egg & Cheese Flavor, UPC #84024312059
Divine Delights Pate Steak & Egg Flavor, UPC #84024312061
Wilderness Trail Trays Duck Grill, UPC #84024312071
Wilderness Trail Trays Beef Grill, UPC #84024312073
Wilderness Trail Trays Chicken Grill, UPC #84024312075
Wilderness Trail Trays Turkey Grill, UPC #84024312077
February 2017
Cause: Potential for metal contamination (aluminum). Announcement: Company announcement dated Feb. 13, 2017. What was recalled: Blue Buffalo Homestyle Recipe Healthy Weight, Chicken Dinner With Garden Vegetables, 12.5 oz. can, UPC #8-40243-10017-0, best by Aug. 3, 2019.
May 2016
Cause: Possible mold. Announcement: News report dated May 31, 2016. What was recalled: 30 lb. bags of Blue Buffalo Life Protection Formula Fish and Sweet Potato Recipe dog food, best by April 11, 2017.
November 2015
Cause: Potential for salmonella. Announcement: Company press release (via FDA) dated Nov. 25, 2015. What was recalled: One lot of Cub Size Wilderness Wild Chews Bones, best by Nov. 4, 2017.
November 2015
Cause: May contain low levels of propylene glycol. Announcement: Company news release dated Nov. 6, 2015 (via FDA). What was recalled: 2 oz. pouches of Blue Kitty Yums Tasty Chicken Recipe cat treats, best by either April 24 or July 24, 2016.
October 2010
Cause: Potentially too much Vitamin D. Announcement: FDA report dated Oct. 8, 2010. What was recalled: Certain packages of Blue Wilderness Chicken Flavor dry dog food, Blue Basics Limited Ingredient Formula Salmon and Potato Recipe dry dog food, and Blue Life Protection Formula Natural Chicken & Brown Rice Recipe Large Breed Adult dog food.
April 2007
Cause: Melamine. Announcement: FDA reports dated April 19, 2007 and April 27, 2007. What was recalled: All cans of Blue Buffalo BLUE dog food, all cans of Blue Buffalo BLUE Spa Select cat food, all Blue Buffalo BLUE dog treats, and Blue Buffalo Spa Select Kitten dry food.
If you have not done so already, we urge you to sign up now for Petful's FREE recall alerts by email. Our free alerts are saving pets' lives.
Have You Had a Problem With Blue Buffalo?
See our reporting page for contact info.
Leave a comment below to share your experience with others.