Petful is reader-supported. As an Amazon Associate, we may earn an affiliate commission when you buy through links on this page.
⚠ Important recall information appears below.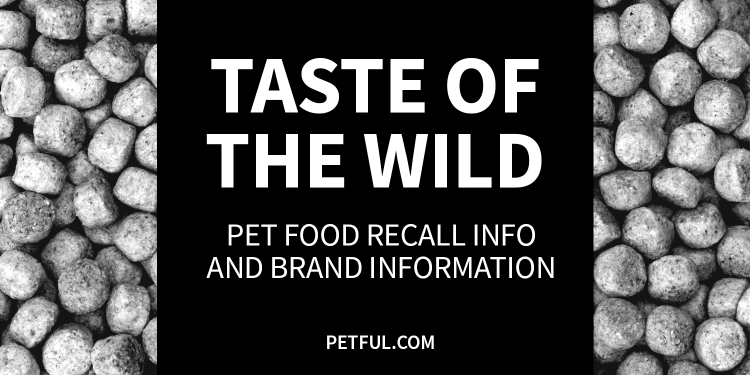 A lot of people hate their in-laws. But that was not the case with Gary Schell and Richard Kampeter. The brother-in-law duo got along so well that they decided to go into business together.
That decision to create Diamond Pet Foods, whose many brands include Taste of the Wild, made both men millionaires.
Below, we share more information about the history of Taste of the Wild — including up-to-date recall information.
Taste of the Wild Quick Facts
Brand line includes: Taste of the Wild, Taste of the Wild Prey Limited Ingredient, Taste of the Wild Ancient Grains
Cost: $$$
Where to buy: Latest deals on Taste of the Wild
Company: Schell and Kampeter Inc. / Diamond Pet Foods
Headquarters: P.O. Box 156, Meta, MO 65058
Contact info: 1-800-342-4808, email, website
Taste of the Wild History
Gary Schell and Richard Kampeter launched Diamond Pet Foods in April 1970 in Meta, Missouri, near where they lived.
They believed they could market a quality dog food that was also affordable. To that end, they bought a milling company. They called their new enterprise Meta Feed and Grain.
According to lore, a hunter who bought the new dog food said it made his dog's coat shine like a diamond. That inspired a name change to Diamond Pet Foods.
The new company succeeded and grew rapidly. Soon the brothers-in-law were opening new plants in California, Missouri, South Carolina and Arkansas.
Marketed as Wolf Food
Taste of the Wild is an important part of the Diamond Pet Foods portfolio.
Diamond claims that Taste of the Wild is based on the dog species' ancestral diet, and that this diet is programmed into the canine DNA.
Many parents dream of building up a successful business that their children can assume ownership of. Schell and Kampeter actually achieved that dream. The opportunity was not lost on Kampeter's son Michael, who began working in the mill while in high school.
According to a local news source, the younger Kampeter picked up a shovel and started doing manual labor for his dad's business. He shoveled and stacked: Dog food and raw ingredients all needed hauling.
Taste of the Wild Goes Global
Soon after graduating high school, Michael joined his brother Tommy Kampeter in the family business. That was in 1985. Michael's first move was to appoint himself to international sales.
It was a bold move. Up to that time, Diamond Pet Foods was mostly a local affair. There was no sales team, much less marketing gurus. The product was being snapped up by people living in and around the Schell and Kampeter stomping grounds.
Michael Kampeter changed all that. He started traveling aggressively, eventually covering the 48 continental states and several countries in Europe.
By attending trade shows, he was able to bring in wholesale contracts that bumped Diamond into competition with the big names of the pet food industry. A breeder's recommendation of Diamond food led to a contract with Costco.
Was YOUR Pet Food Recalled?
Check Now: Blue Buffalo • Science Diet • Purina • Wellness • 4health • Canine Carry Outs • Friskies • Taste of the Wild • See 200+ more brands…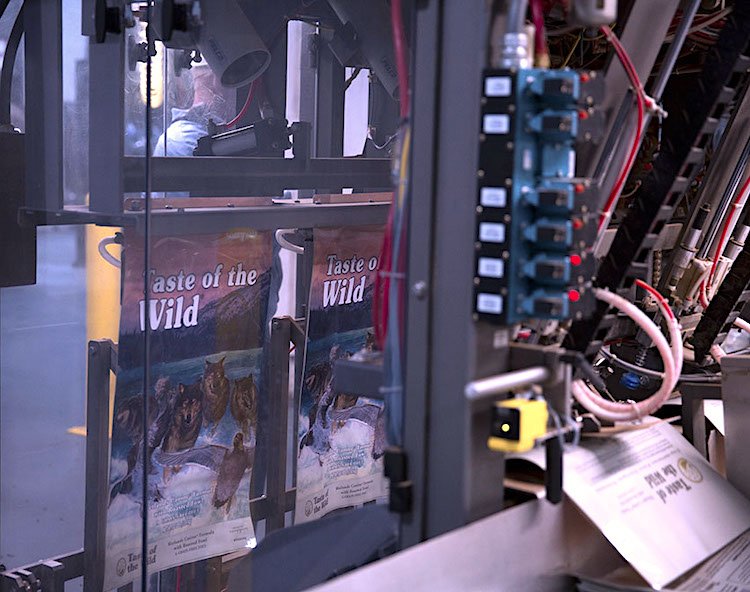 Diamond Foods Stays in the Family
In the early 2000s, the elder Schell and Kampeter formally passed the baton of company ownership to their children, and Michael became company president.
It didn't feel like a transition, because Diamond Pet Foods was all he had ever known, he said.
By the time Michael became president, 3 of his brothers were working alongside him at Diamond, as was his son, Trey.
In 2020, Diamond Pet Foods was the No. 5 pet food company in the world, with $1.5 billion in annual revenue, according to data provided by Pet Food Industry. There's no doubt that Taste of the Wild has been an important factor in that success.
Besides Taste of the Wild, other Diamond Pet Foods brands include:
Diamond also serves as a manufacturer for many brands, such as Kirkland Signature, Solid Gold, 4Health, Chicken Soup for the Soul and many private labels.
Taste of the Wild Lawsuits
Several class-action lawsuits have been filed in recent years alleging dangerous problems with Taste of the Wild pet food:
Jackson et al. v. Schell & Kampeter Inc. d/b/a Diamond Pet Foods et al., filed in February 2019, alleges positive tests for arsenic, lead, pesticides and other toxic materials in Taste of the Wild dog food.
Grossman v. Schell & Kampeter Inc. d/b/a Diamond Pet Foods et al., filed in August 2018, alleges undisclosed heavy metals, pesticides, acrylamide and bisphenol A (BPA) in Taste of the Wild dog food.
Marciano v. Schell & Kampeter Inc. d/b/a Diamond Pet Foods et al. was filed in May 2012, following a salmonella-related recall involving many Diamond-manufactured pet food brands, which included Taste of the Wild. Not only pets but also dozens of people were sickened during the multi-state salmonella outbreak caused by the contaminated pet food. This class-action lawsuit alleged negligence, unjust enrichment and state law violations, among other claims. It was eventually settled for $2 million, with some consumers getting $10 checks in the mail (others received reimbursement for veterinary bills).
Has Taste of the Wild Ever Been Recalled?
Yes, there has been a single Taste of the Wild recall, several years ago — and it was a big one.
In May 2012,  thousands of units of Taste of the Wild were recalled because of positive tests for salmonella. Dozens of people and untold numbers of pets were sickened during a multi-state salmonella outbreak caused by various brands of contaminated pet food, all of which was manufactured by Diamond Pet Foods in one of its facilities.
2019 Heart Disease Investigation
We also want to alert readers to the fact that, in late June 2019, the U.S. Food and Drug Administration (FDA) identified Taste of the Wild as one of 16 pet food brands that may be linked to heart disease in dogs and cats. None of those 16 brands have been recalled as part of the agency's ongoing investigation, though. Most, but not all, of the pet foods are "grain-free" and/or dry (kibble) dog food formulations.
The FDA says this is a "complex scientific issue that may involve multiple factors," and that it cannot even be certain that diet is a cause of the heart problems.
List of Taste of the Wild Recalls
May 2012
Cause: Potential for salmonella. Announcement: FDA report dated May 5, 2012 (archived here). What was recalled: All sizes of Taste of the Wild dry dog food and cat food with production codes containing the number "2" or "3" in the 9th digit AND with the letter "X" in the 10th or 11th digit; AND a "best by" date of Dec. 9, 2012 through April 7, 2013.
If you have not done so already, we urge you to sign up now for Petful's FREE recall alerts by email. Our free alerts are saving pets' lives.
Have You Had a Problem With Taste of the Wild?
See our reporting page for contact info.
Leave a comment below to share your experience with others.
References