Petful is reader-supported. When you buy through links on this page, we may earn an affiliate commission.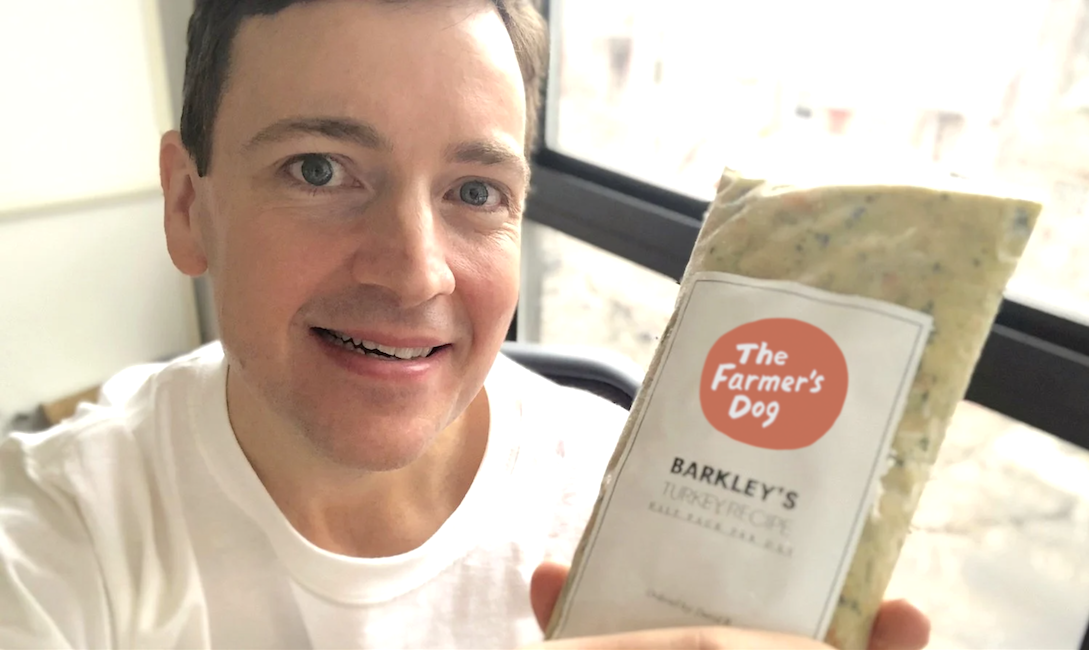 Hi. I'm Dave Baker, publisher of Petful.
I've been tracking U.S. pet food recalls for nearly 15 years, so pet food safety is my #1 concern.
Today, I want to introduce you to The Farmer's Dog.
The Farmer's Dog was founded by 2 dog dads who were fed up with seeing highly processed, low-quality food marketed as healthy. They decided to create a smarter, healthier alternative using real, fresh, human-grade ingredients to create recipes formulated specifically for dogs, and delivering directly to customers' doors. It's better for them and easier for you.
I love that The Farmer's Dog headquarters is located right here in Brooklyn, New York, where I live and work.
Lucky for you — that means I've been able to tour everything in person, meet the staff (and their dogs), and get to know why so many people love The Farmer's Dog.
Keep reading below, because there is much more to discover! (Got cats? See my review of the awesome Smalls cat food.)
First, There Was Heartache and Frustration
The food came about as a result of health problems and setbacks that co-founder Brett Podolsky was experiencing with his beloved Rottweiler, Jada, who was suffering from horrible stomach problems.
Brett tried what felt like every kibble on the market for Jada, but it just made her condition worse. So he finally went to a holistic vet, who suggested home cooking. And so he did, and her symptoms disappeared overnight.
He would stop cooking and switch back to kibble, but poor Jada would just get sick again. Every time. It was frustrating for both of them. And this went on for months.
"It broke my heart to know that my baby was essentially living with a stomach ache," says Brett.
One thing was clear, though: Jada was thriving when she ate real, freshly cooked food — not dry brown balls of processed kibble.
Cooking meals for a pet every day is hard work, though. It's not for everyone. I know it's not for me. I would last maybe a week. How about you? Not to mention, if you feed an unbalanced diet, your pet will be worse off than they'd be on a cheap commercial pet food!
Finally, a Better Way…
Curious, Brett started doing more and more research.
He wondered: "Is there a dog food brand out there that already exists that I can trust to feed my dog — that's honest and really just doing what they say that they do?"
And that honest, trustworthy brand he was looking for simply did not exist — yet.
That's when he decided to build it himself. And that's where The Farmer's Dog enters the picture…
With The Farmer's Dog, now there's an easier way to give your dog:
More energy than ever
A shinier coat and brighter eyes
A stronger immune system and healthier digestion
A better chance at a longer life
This isn't processed pet feed. It's REAL pet food.
Is The Farmer's Dog a Scam?
No, it is not a scam. This is legitimately a great dog food designed to work as a super-convenient subscription service. The way The Farmer's Dog works is:
You go to their site.
You fill out a quick profile for your dog.
Their custom technology will calculate an awesome meal plan designed specifically for your dog's needs. They take different things into consideration: age, weight, all sorts of factors — completely personalized.
And they cook and deliver it to you quickly. It's cooked within days before shipping it, frozen only for transportation reasons. (Shipments are continental U.S.-only right now, unfortunately.)
What's in the Box? My Video Review of The Farmer's Dog
Here is my quick video showing what's in the box, and what my canine reviewer thought about this dog food.
Did you watch it? As you can see, my canine taste-tester's review of The Farmer's Dog was an absolute success.
Listen to that smacking at the end of the video, haha!
More Reasons to Love It
Human-grade ingredients means less processing, natural nutrients and higher safety standards.
The food is prepared in a USDA-regulated kitchen. In fact, it's the only dog food made there at the facility — everything else is human food, which is virtually unheard of.
The recipes are formulated by some of the top veterinary nutritionists in the United States. That puts me at ease because I know all the recipes are completely balanced.
Research Backs Fresh-Cooked Pet Food
I know what you're thinking. "Dave, you've convinced me that The Farmer's Dog is a decent pet food, but come on, is it really as great as you say it is? Why should I think about switching?"
And here's my reply: How'd you like to potentially add months, even years, to your dog's life?
That's not as hype-y as it may sound. Here's why...
According to Dogs Naturally magazine, a years-long study of 522 dogs by Lippert and Sapy (2003) found something truly astonishing. Their data showed that dogs who were fed high-quality, freshly made, real food had an average life expectancy of 13.1 years versus just 10.4 years for dogs fed commercial processed pet food.
Did you catch that?
The dogs lived nearly 3 years longer.
The researchers (who were both veterinarians) concluded: Feeding dogs fresh, nutritious food — real food that hasn't been over-processed, loaded up with chemical additives, sprayed down with awful preservatives or hammered by high heat — "is a guarantee for better protection, well-being and longer life expectancy."
That's powerful, isn't it?
Now, imagine getting benefits like THAT with all the convenience of timely home deliveries from The Farmer's Dog.
They've done all the work for you — all you have to do is open the fridge, pop open the pouch and spoon some food into your dog's bowl. If you want, you can warm it up in the microwave first. And then ... watch your spoiled pup gobble it up like nobody's business.
That feeling? It's like your dog is getting a giant hug from you with every delicious, savory bite of every meal.
And for you?
No grocery store trips, no raw meat to handle, no hours spent cooking for your dog, and (my personal favorite) no dirty pots and pans to scrub clean.
Yay. I could get used to this.
More Reviews of The Farmer's Dog
I love seeing wonderful comments like these:
And that's just a few of the Farmer's Dog reviews.
Says co-founder Brett: "We created The Farmer's Dog for pet owners to trust we'll do what we say we do and give peace of mind when feeding their dogs."
Think about this:
No harmful fillers.
No artificial flavors.
No nasty preservatives — ever.
What a Difference!
Kai, a Dogo Argentino, suffered from terrible allergies that caused splotchy fur on the top of her head. After transitioning to The Farmer's Dog, it cleared up.
"She wasn't itchy at all, and the sensitive skin on her belly returned to the normal pink color, instead of reddish and irritated," says her mom, Deena.
Check out these before and after photos:
Let's Do This
OK, you've read this far. So, what do you think? Ready to say goodbye to processed? Doesn't your dog deserve fresh, whole-food meals like the kind of nutritious food that you yourself eat?
Consider this quote from Dr. Patrick Mahoney, VMD, CVA, writing for PetMD:
"I generally see that my patients [dogs and cats] who eat whole-food diets throughout their lives have fewer health problems."
And this quote from Dr. Alex Schechter, DVM:
"It's tough to find a home-cooked, trustworthy pet food brand. The Farmer's Dog delivers 100%."
If you're looking for an honest, simple, wholesome dog food that's just like homemade but without all the fuss — all delivered right to your door — go ahead and give The Farmer's Dog a try today.
Prices start at about $3 per day for a smaller dog (amazing considering the high quality). And it gets even better, because there's a really good deal happening right now...
The Farmer's Dog – 50% Off
For a limited time, you can get an incredible 50% off your first order, which is perfect for a low-commitment, "let's just try it out and see what the big deal is" kind of thing.
Just use the exclusive link below — there's no promo code required.
Don't delay. Go claim your discount now before this deal expires.
P.S. Give it a try and see what you think! Worried it won't work out? If your dog doesn't absolutely LOVE it, The Farmer's Dog can either send you a different recipe to try or give you a full refund, your choice. No nonsense. (That's another reason I love this company.)
You have nothing to lose — so let's do this. Do your pet a favor and go claim your 50% discount now before time runs out.
Disclosure: Petful was provided free samples for the purposes of this review of The Farmer's Dog, which contains affiliate links. Disclaimer: This review was my own personal opinion; I am not a vet. Please consult your veterinarian — especially if your pet has an existing health condition. Any statements or claims about the possible health benefits conferred by any foods or supplements have not been evaluated by the Food & Drug Administration (FDA) and are not intended to diagnose, treat, prevent or cure any disease or condition. No food can ever guarantee a longer life span for any particular animal. In fact, any of us could go tomorrow, despite our best attempts at living as healthy a life as we can. However, I do strongly believe The Farmer's Dog gives dogs everywhere a better shot at a longer life and greater health, because the science points to a very simple but powerful conclusion: Dogs who are fed real, fresh food live longer. Learn more about The Farmer's Dog.