Dogs are some of the happiest creatures on earth. They also have a special talent for expressing themselves — and this can come in many forms, including your dog always following you out of sheer love.
My Chihuahua, Angel, knew exactly when my husband was about to come home from work every day. When it was almost that time, she would go to the door and sit.
And as soon as she spotted his car turning into the driveway, Angel would come running to me to let me know. Then back to the door she went, waiting for Daddy to walk inside.
Once he was inside, this spunky little dog would always follow him everywhere, jumping up on his leg for attention. Sometimes she didn't seem to know when to being so clingy. We used to call her our "Velcro dog."
Why Does My Dog Always Follow Me?
If constantly having a dog on your heels is happening so much that it's bothering you, your dog may have separation anxiety.
Dr. Betsy Brevitz, DVM, author of The Complete Healthy Dog Handbook, says separation anxiety often begins occurring when dogs are left home alone for long stretches of time.
Think of it this way: You are your dog's world. When you leave for a long time, your pet's sense of security is disrupted.
"Dogs are social creatures" who are "not naturally equipped to handle being left behind," Dr. Brevitz says.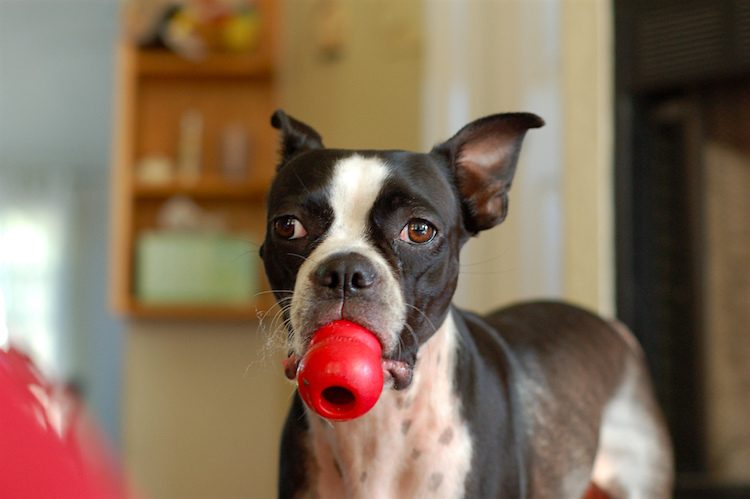 How to Get Your Dog to Stop Following You So Much
If you feel the need for space between you and your dog, here are a few tips that may help:
If you have a truly "Velcro" dog who never leaves your side, you should consider paying less attention to them. Dog behavior consultant Fernando Camacho says this tip might seem insensitive, but paying less attention to them may be better for both you and your dog in the long run.
"As hard as it is to do, you need to lessen [their] attachment to you," Camacho says. "It's not mean — it's healthy."
Dr. Brevitz adds that you should especially ignore your dog for 20 minutes right before you leave, as well as when you return home.
"Effusive goodbyes and hellos make a dog with separation anxiety feel worse," she says.
More Tips for Reducing Separation Anxiety in Your Dog
Camacho also suggests not letting the dog sleep on your lap whenever they please — and not letting the dog follow you from room to room all the time. Get a baby gate to block off certain areas of the house.
Also, "if you have one of these dogs, and he sleeps in bed with you, get him a nice comfy dog bed and put him on the floor next to you," Camacho says.
This doesn't have to be a permanent setup.
Just continue having your dog sleep next to you until the separation anxiety has improved through implementing the tips above during the daytime.
Was YOUR Pet Food Recalled?
Check Now: Blue Buffalo • Science Diet • Purina • Wellness • 4health • Canine Carry Outs • Friskies • Taste of the Wild • See 200+ more brands…
When you return home after a leave of absence and wonder, "Why does my dog always follow me everywhere?" know that your dog does this because they love you and they're happy you've made it back to them.
Here are a few more reasons a dog follows you everywhere:
Best Way to Keep Your Dog Fit and Happy
Looking for a way for you and your dog to get healthy together?
Check out the FitBark 2, the highest-rated dog health monitor in the market. It's a small, colorful device that you attach to your dog's collar.
The FitBark 2 monitors activity levels, quality of sleep, distance traveled, calories burned, and overall health and behavior 24/7. Battery life is an unbelievable 6 months, so you can worry less about recharging and more about bonding with your pup. It fits dogs of any size, and it loves the water as much as your dog does!
Learn why everyone is thrilled about the FitBark 2 here.
References
+ Click to see the sources for this article.
* * *
This article was originally published in 2011 and is regularly updated. It was last reviewed and updated July 26, 2019.
Read This Next