Dogs are considered to be some of the happiest creatures on earth. They also tend to have a special talent for expressing themselves, and this can come in many forms, including always following their folks around out of sheer love.
Angel, my Chihuahua, knows when "Daddy" will come home from work each day. When it's almost that time, she will go to the door and sit. As soon as she spots his car turning into the driveway, she runs to find me. Then back to the door she goes, waiting for Daddy to come inside.
Once he's inside, she always follows him everywhere, jumping up on his leg for attention. Sometimes she doesn't seem to know when to stop following him around.
Why Your Dog Always Follows You
Here is the most likely reason your dog always follows you: It's about security.
You are your dog's world. When you leave for a long time, your pet's security is disrupted.
If the constant stalking of you by your dog is out of control, it's possible that your dog has separation anxiety.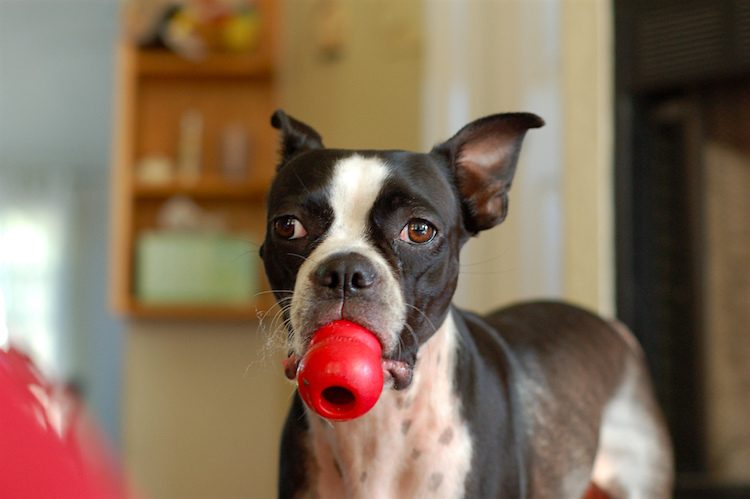 How to Get Your Dog to Stop Following You So Much
If you feel the need for space between you and your dog, here are a few tips that may help, according to The Complete Healthy Dog Handbook:
Make sure your dog gets at least 30 minutes of solid exercise daily.
Work on commands (sit, stay, come, etc.).
Leave your dog with a tasty distraction, such as one of those awesome Kong toys (affiliate link) stuffed with a food treat.
If you have a truly "Velcro" dog — who never, ever leaves your side — A Better Life With Your Dog suggests starting to pay less attention to your pet. This seems insensitive, but it may be better for you and your pet in the long run.
Let Your Dog Sleep Next to You
You may be able to lessen his attachment to you by getting your dog a comfortable bed of his own. Place the bed on the floor beside your bed.
This doesn't have to be a permanent setup. Just continue having your dog sleep next to you until the separation anxiety has improved through implementing the tips above during the daytime.
Don't forget: Dogs are social creatures. They detect changes in routines and need to know that things will soon get back to normal.
Watch an adorable Yorkie follow his human around in this video:
When you return home after a leave of absence and wonder, "Why does my dog always follow me everywhere?" know that your dog does this because she loves you and she is happy that you've made it back to her.
Your clingy dog is a family member who needs a little reassuring that you'll be there for her.
Best Way to Keep Your Dog Fit and Happy
Looking for a way for you and your dog to get healthy together?
Check out the FitBark 2, the highest-rated dog health monitor in the market. It's a small, colorful device that you attach to your dog's collar.
The FitBark 2 monitors activity levels, quality of sleep, distance traveled, calories burned, and overall health and behavior 24/7. Battery life is an unbelievable 6 months, so you can worry less about recharging and more about bonding with your pup. It fits dogs of any size, and it loves the water as much as your dog does!
Learn why everyone is thrilled about the FitBark 2 here.