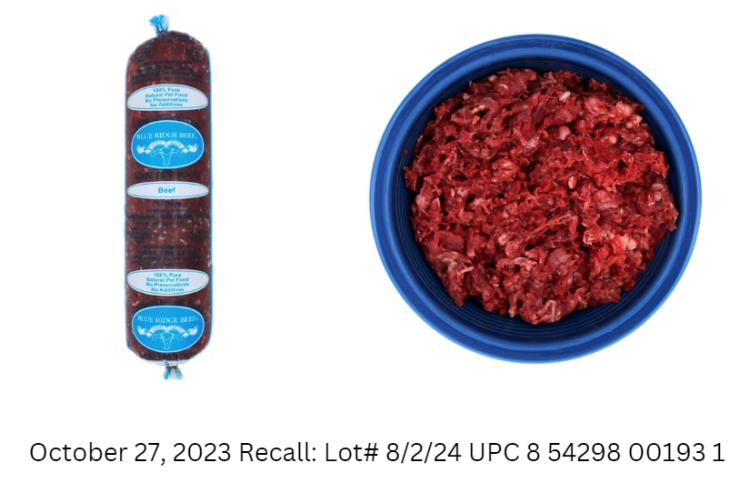 Maker: Blue Ridge Beef
Cause: Salmonella contamination
Announcement: FDA recall announcement dated October 27, 2023 (archived here)
What was recalled: Breeders Choice Raw Pet Food 2 lb from Lot# 8/2/24 UPC 8 54298 00193 1
In an announcement dated October 27, 2023, Blue Ridge Beef, a reputable pet food manufacturer, has issued a voluntary recall of their "Breeders Choice Raw Pet Food 2 lb" due to confirmed contamination of Salmonella. The U.S. Food & Drug Administration (FDA) has corroborated this information in a publication released on the same day.
To date, there have been no reported cases of illnesses linked to this recall.
Dangers of Salmonella Contamination
Salmonella is notorious for posing severe health threats both to animals consuming the contaminated products and humans handling them. Those who come into contact with these products are advised to wash their hands thoroughly to avoid potential transmission.
For humans, symptoms of Salmonella infection encompass nausea, vomiting, diarrhea or bloody diarrhea, abdominal cramping, and fever. In infrequent cases, it can also lead to arterial infections, endocarditis, arthritis, muscle pain, eye irritation, and urinary tract symptoms. Any individual displaying these symptoms after handling the product is strongly advised to seek immediate medical attention.
In pets, symptoms manifest as lethargy, diarrhea or bloody diarrhea, fever, vomiting, decreased appetite, and abdominal pain. Healthy pets may still carry the bacteria, serving as potential sources of infection to other animals or humans. Should your pet show these symptoms after consuming the recalled product, a prompt veterinary consultation is crucial.
Distribution of Contaminated Product
The potentially contaminated product was distributed from August 9, 2023, to August 25, 2023. It is packaged in clear plastic and primarily sold in retail stores in Delaware, Maryland, New Jersey, Pennsylvania, and Virginia.
What Should You Do?
Consumers in possession of this product are firmly advised to either:
Contact Blue Ridge Beef directly for a full refund at blueridgebeefnc@yahoo.com.
Safely dispose of the product, ensuring it remains inaccessible to children, pets, and wildlife.
Under no circumstances should the recalled product be sold, donated, or fed to pets or other animals.
Sanitation is vital: Wash and sanitize pet food bowls, cups, storage containers, and all utensils that may have come in contact with the recalled food. Hand hygiene is paramount after handling any recalled products.
For any queries or concerns, consumers can reach out to Mr. Steven Lea at (704) 880-4500, available Monday through Friday from 8:00 am to 5:00 pm EST.
This recall is being executed voluntarily by Blue Ridge Beef in collaboration with the U.S. Food and Drug Administration, underlining their commitment to ensuring the well-being of pets and their owners.
Blue Ridge Beef Contact Information
Blue Ridge Beef Phone: 704-880-4500 Email: blueridgebeefnc@yahoo.com
We urge our readers to spread the word about this recall, ensuring the safety of pets and pet owners alike. Stay informed and stay safe!
View other recent pet food recalls here, and if you have not done so already, we urge you to sign up now for Petful's FREE recall alerts by email. Our free alerts are saving pets' lives.
ADVERTISEMENT
There were more recalls in 2023. See the previous one:
(Or browse recalls by brand name)