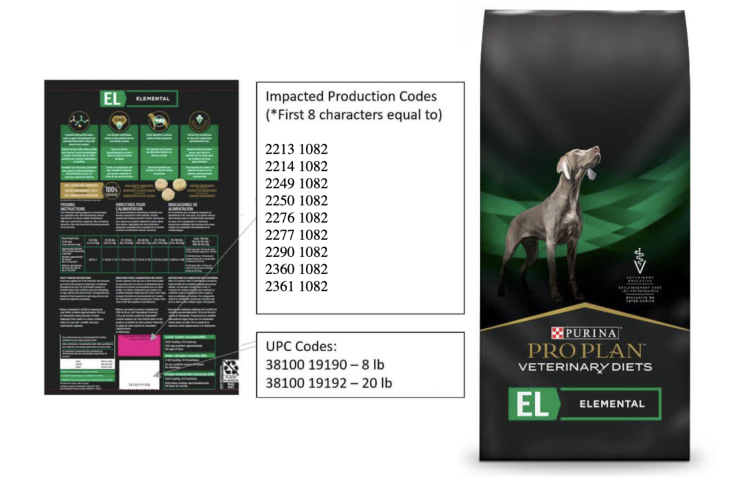 Maker: Nestle Purina PetCare Company
Cause: Potentially elevated Vitamin D
Announcement: FDA recall notices dated Feb. 8, 2023 (archived here) and March 10, 2023 (archived here)
What was recalled: Purina Pro Plan Veterinary Diets EL Elemental dog food in 8 lb. (UPC #38100 19190) and 20 lb. (UPC #38100 19192) bags in which the first 8 characters in the production code is one of the following:
2213 1082
2214 1082
2249 1082
2250 1082
2276 1082
2277 1082
2290 1082
2360 1082
2361 1082
Nestlé Purina PetCare Company has announced a voluntary recall of select lots of Purina Pro Plan Veterinary Diets EL Elemental (PPVD EL) dry dog food. The recall is due to the potential presence of elevated levels of Vitamin D in the food, which if consumed in excess, can lead to serious health issues for dogs.
Vitamin D is an essential nutrient for dogs, but excessive consumption can lead to a range of symptoms such as vomiting, loss of appetite, increased thirst, and kidney dysfunction.
The recall was first announced in early February 2023 after Purina received 2 separate reports of dogs exhibiting signs of Vitamin D toxicity after consuming the affected product. Once the dogs were taken off the affected food, they fully recovered.
On March 10, 2023, an expansion of the recall was announced to include 2 earlier production code numbers. All 9 production code numbers are listed above. No other Purina products are affected by this recall.
The recalled dog food was distributed in the United States through prescription-only channels, such as veterinary clinics, Purina Vet Direct, Purina for Professionals, and other select retailers that have the ability to validate a prescription.
Consumers who purchased this dog food in the sizes and with the Production Codes listed above should stop feeding it to their dogs immediately and dispose of it in a safe manner where no other animals, including wildlife, can access it.
If your dog has shown any signs of Vitamin D toxicity, such as weight loss, excessive drooling, vomiting, loss of appetite, or increased thirst or urination, contact your veterinarian immediately.
Purina has set up a customer support line at 1-800-345-5678 and a contact form on their website for any questions or assistance with refunds.
If you have not done so already, we urge you to sign up now for Petful's FREE recall alerts by email. Our free alerts are saving pets' lives.
There were more recalls in 2023. See the previous one:
(Or browse recalls by brand name)