In certain industries, when to tip is well-known.
You know to tip your hairdresser, your delivery drivers and your waitstaff — but beyond that, it can be unclear just whom to tip and how much is expected.
For example, do you know how much to tip dog walkers? What about tipping pet sitters? Groomers?
This article aims to help clear up tipping protocol in pet-related industries.
I have been a pet sitter and dog walker for the past several years, and I interviewed several experts for this article to get their thoughts, too, on tipping in pet care.
Here's what I've learned: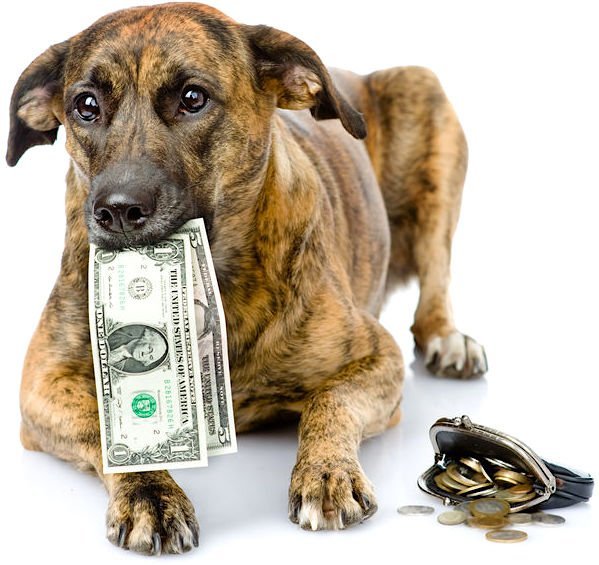 Special Circumstances
Holiday Tips/Bonuses
How much should you tip your dog groomer at Christmas? How much do you tip a pet sitter for Christmas? How much should I tip my dog walker for Christmas?
And on and on and on …
These are common questions around the year-end holidays.
During the holidays, people often extend a bonus of some kind to their pet care providers, especially if they don't tip regularly throughout the year. "Vet offices receive food and plants, etc. at Christmas, all appreciated by doctors and staff alike," says Dr. Lichtenberg.
If you're not comfortable leaving money or if you pay the service online, then you can always give a gift or gift card.
This past Christmas I had some wonderful clients give me gift cards to local shops, thoughtful tchotchkes — and even a nice, thick pair of socks. As someone who walks dogs in the middle of the winter, I really appreciated those socks!
Infrequent Reasons to Tip
There are certain occasions where it's a really good idea to leave a tip:
Your pet is difficult to handle or aggressive.
Your pet required medication (that they don't normally need).
Your pet care provider transported your pet to the groomer or veterinarian for you.
Your pet care provider took on a last-minute job for you.
Or they performed extra services, such as picking up pet supplies or cleaning tasks.
Most people who care for pets professionally are in this business because we truly love animals and enjoy what we do. But it's nice to get that acknowledgment when we go the extra mile.
Wondering how to make money as a dog sitter? This video provides a fun overview:
References
+ Click to see the sources for this article.