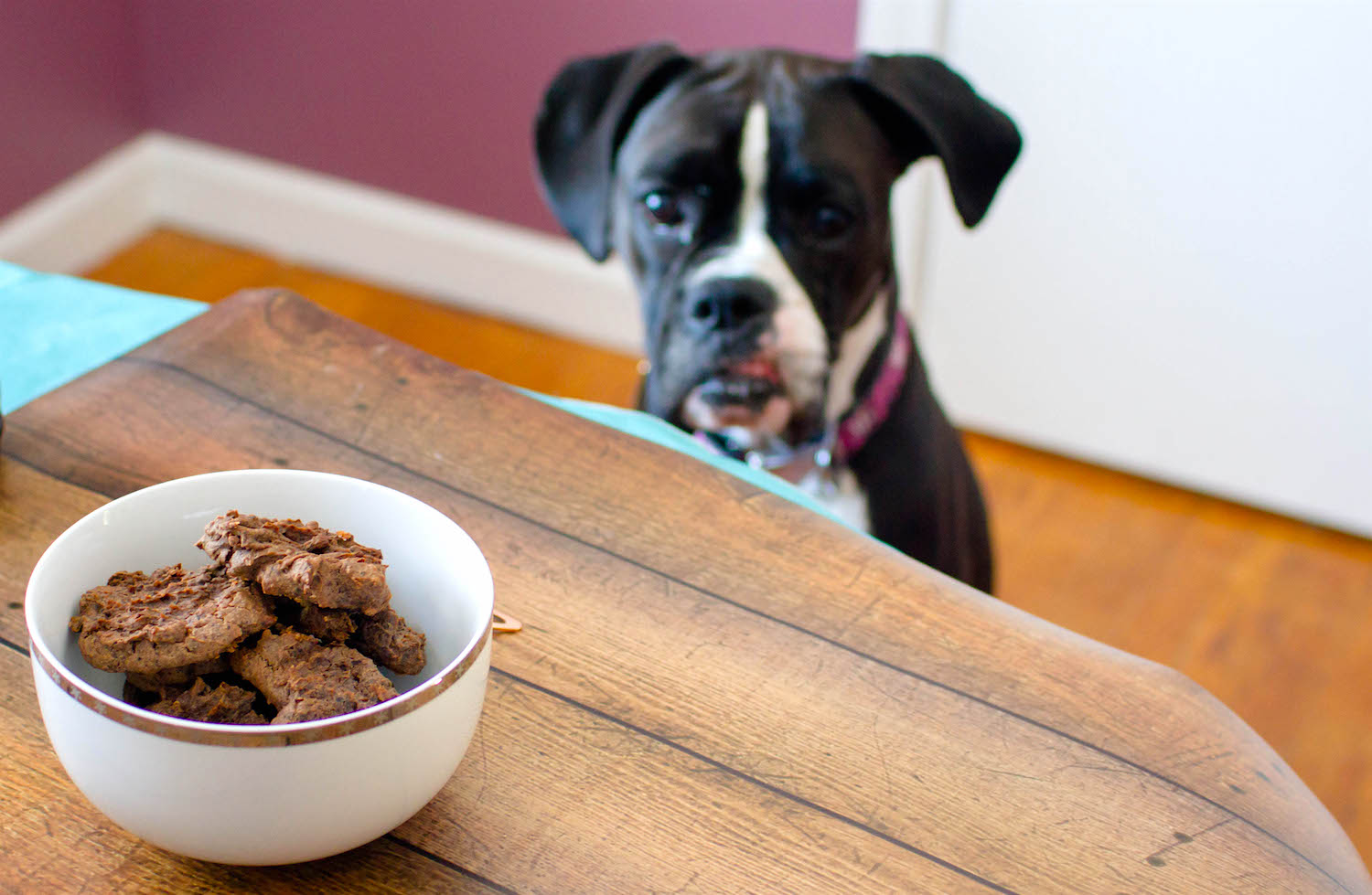 While looking for grain-free dog treat recipes, I spotted this one that calls for black beans.
I've never tried giving Banjo biscuits with beans and happened to have a spare can of black beans in the pantry, so I thought I'd give it a whirl.
If your dog has itchy skin or grain-related allergies, these cookies are a healthy alternative to commercially made dog biscuits.
Grain-Free Black Bean Dog Cookies
Ingredients
1 cup black beans, drained and rinsed well (from a 15 oz. can, low sodium)
¼ cup almond butter
½ very ripe banana
1 egg
Directions
In a food processor, blend the beans until they create a paste.
Add the remaining ingredients and process until smooth.
Refrigerate the batter for at least 1 hour.
Heat your oven to 350 F.
Drop the dough by rounded teaspoons onto a nonstick cookie sheet.
Bake for 15 minutes.
Using the back of a fork, flatten the cookies.
Bake for another 10 minutes.
Flip the cookies over and bake for 20 more minutes.
The black beans make these treats look like chocolate cookies, except they're definitely dog-friendly.
Banjo was unimpressed with how long she had to wait while I tried to snap a couple photos of the finished cookies, but it was worth the wait. She was won over by these grain-free biscuits.
Adapted from: SkinnyMs.

This pet treat recipe was reviewed by a veterinarian,
Dr. Judy Morgan
, DVM, CVA, CVCP, CVFT, and is safe for dogs in moderation, but is not a substitute for a complete balanced diet. This recipe was last reviewed and updated Feb. 26, 2019. Dr. Morgan comments: "I always recommend using almond butter instead of peanut butter. Peanut butter has a higher risk of containing xylitol, and peanuts may be affected by molds and aflatoxins." Dr. Morgan operates 2 award-winning veterinary hospitals in New Jersey that offer an integrative approach to pet care. With a passion for healing her patients with whole foods, she has written several books on holistic pet care — including
Yin & Yang Nutrition for Dogs
, a holistic cookbook for pets.