Did you know brewer's yeast is good for dogs?
According to PetMD, "brewer's yeast promotes healthy skin, hair, eyes and liver function" and "may reduce anxiety in dogs."1
Dr. Judith K. Herman DVM, CVH, agrees, saying, "Brewer's yeast is a great antioxidant."2
Brewer's yeast is sometimes given as a supplement. But you can also use it as an ingredient in homemade dog treat recipes — like this one.
Healthy Brewer's Yeast Dog Treats
Ingredients
2 cups rolled oats
1 cup brewer's yeast
1¼ cup flour
1 cup shredded cheddar cheese
1 egg, whisked
¾ cup water
Directions
Heat your oven to 350 F.
In a large bowl, combine the oats, brewer's yeast, flour and cheese.
Mix in the whisked egg.
Add only as much of the water as necessary to create a rollable dough.
On a lightly floured surface, roll the dough out to ¼ inch.
Cut the dough with a cookie cutter and line the cookies on a nonstick sheet.
Bake for 20 minutes for soft treats and 30 minutes for crispier treats.
I'm happy to include brewer's yeast in Banjo's dog treat recipes.
She's a big fan of these cheesy biscuits.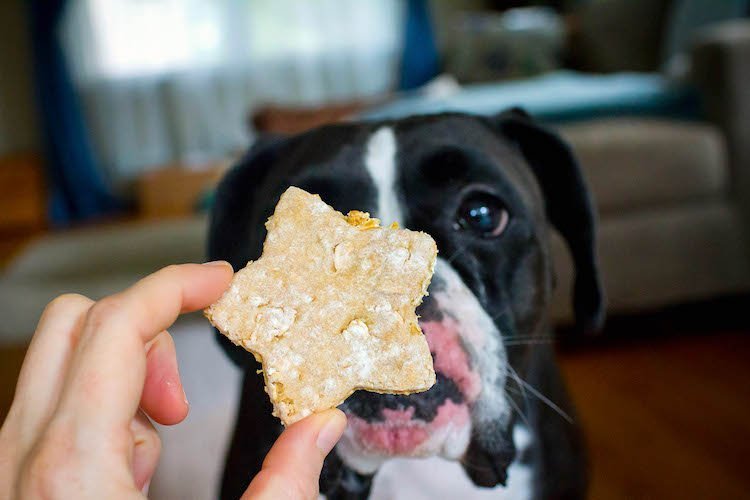 Adapted from: The Midnight Baker.

This pet treat recipe was reviewed by a veterinarian,
Dr. Judy Morgan
, DVM, CVA, CVCP, CVFT, and is safe for dogs in moderation, but is not a substitute for a complete balanced diet. This recipe was last reviewed and updated Feb. 20, 2019. Dr. Morgan comments: "Oats are a great source of fiber and protein. Brewer's yeast is high in B vitamins and trace minerals, supporting healthy skin, coat and liver function. I generally don't include cheese in pet diets, but a small amount in treats will certainly excite their taste buds." Dr. Morgan operates 2 award-winning veterinary hospitals in New Jersey that offer an integrative approach to pet care. With a passion for healing her patients with whole foods, she has written several books on holistic pet care — including
Yin & Yang Nutrition for Dogs
, a holistic cookbook for pets.