AKC Group
Toy

Weight
8-12 lbs.
Height
11-13 in.
Life Span
13-15 years
1. Key Characteristics of a Chinese Crested
This small, elegant and playful breed is one of the most popular hairless dog breeds.
There are 2 varieties of Chinese Crested dogs: hairless and powderpuff.
The hairless version has hair only on the head, tail and bottom of the feet. The powderpuff has a short double coat over the entire body. Interestingly, litters can include a mix of hairless and powderpuff Chinese Cresteds.
2. Where the Chinese Crested Came From
Hairless dogs from Africa are believed to be the ancestors of the Chinese Crested.
Chinese Cresteds used to hunt rats on ships traveling in and out of various ports around the world. The dogs were traded among people traveling to different ports, so they appeared in many areas of the world. In China, the dogs were bred to be smaller.
The breed became popular in the United States in the 1900s, and the dogs saw a spike in popularity after stage performer, author, actress and playwright Gypsy Rose Lee acquired one of them. She also opened one of the first breeding kennels for the Chinese Crested in the United States.
The American Kennel Club (AKC) added the breed in 1991.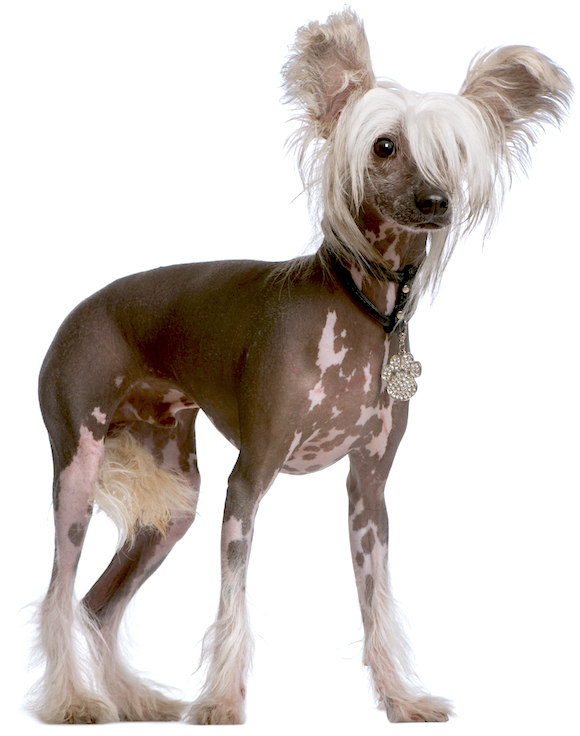 3. How Friendly Is a Chinese Crested?
These small dogs are quite attached to their humans. They are affectionate, playful, alert and can be entertaining and goofy at times.
They are good with children who are taught to be gentle with them, and they need thorough socialization to avoid shyness. They are intelligent, can learn tricks, are good with other pets and don't bark much.
Chinese Crested dogs love to climb and dig, so a small yard would satisfy these needs.
4. Is This the Right Dog for You?
Exercise Needs
LOW: Daily walks and play are ideal for these dogs. But keep an eye on them when they're outdoors — Chinese Cresteds injure easily.
Grooming Needs
MEDIUM: The hairless version of the breed needs regular bathing followed by a moisturizing agent such as oil or cream. For the powderpuff version, brush them regularly to prevent matting.
This breed sheds little and is highly recommended for allergy sufferers.
Both versions of the Chinese Crested require regular maintenance of their large ears, teeth and nails.
Health Problems
LOW: Chinese Crested dogs don't have many health concerns, but there are a few:
Sunburn and skin irritations (hairless)
Tooth decay (hairless)
More Stats About the Chinese Crested
| | |
| --- | --- |
| Friendliness | ★★★★☆ |
| Ease of Training | ★★★★☆ |
| Barking/Howling | ★★★☆☆ |
| Shedding | ★★☆☆☆ |
| Tolerates Being Alone | ★☆☆☆☆ |
| Very Good With Kids | ★★★★★ |
Check out this video for 8 things only a Chinese Crested caretaker will understand:
5. How to Adopt a Chinese Crested
These small toy dogs are more popular in the hairless version, so finding a powderpuff can be difficult. The breed is rare, and the hairless version is considered to be more valuable.
Chinese Crested dogs end up in shelters and rescues, so please check these resources first.
Bald Is Beautiful, a hairless and small breed rescue based in South Carolina, has adopted out many Chinese Crested dogs and mixes over the years. The dogs come from shelters or from family surrenders. Others have come directly from breeders or hoarding situations. "Their journeys have many different beginnings, but hopefully one happy end — a forever home," the rescue group says.
"Bald Is Beautiful specializes in the rescue and placement of abused, unwanted and abandoned dogs. We concentrate on hairless and small breed dogs and are known by many as a Chinese Crested rescue," the group adds.
Here are some of their dogs currently available for adoption: Available Animals.
Also, try out Petful's free online dog adoption search to see if there are any Chinese Cresteds available near you.
Finally, if you decide to contact a breeder, make sure you're not unwittingly supporting a puppy mill.
References