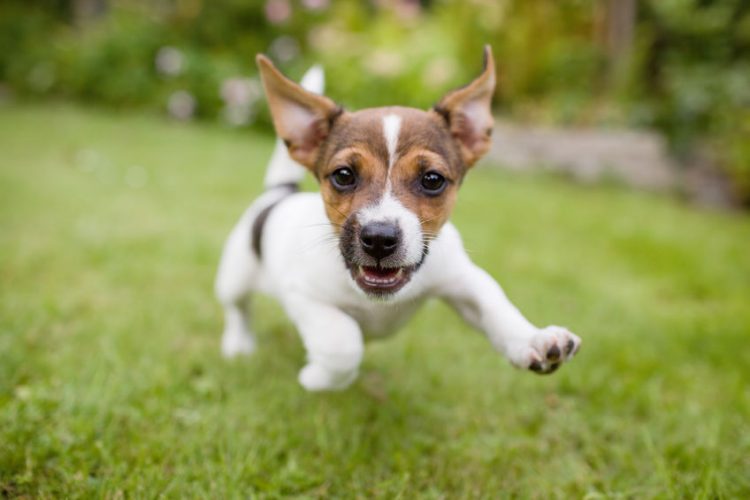 If dogs run free, then why not we
Across the swooping plain?…
True love needs no company
It can cure the soul, it can make it whole,
If dogs run free
—Bob Dylan
Picture a dog running free, Irish Setter feathers fluttering along the shoreline; poodle ears flapping in the breeze; Labrador tails wagging through the woods. Canine feet become one with the earth, and busy nostrils breathe in fresh air from mountains, fields, streams and oceans.
Off-leash running is a true joy for both you and your dog.
But let's stop right here. It can be dangerous. Your dog's personality, your environment and your training protocol dictate whether off-leash running is a possibility — but this isn't to say that I recommend it. Here are some guidelines to consider if you are thinking about running free with your dog.
No Guarantees
Off-leash running always poses a risk.
You cannot control outside stimuli, like the appearance of another dog, people, bicycles, loud noises or scampering woodland creatures. These could trigger even a well-trained dog to ignore voice commands.
Training, Training, Training
Extensive training, specifically off-leash training, is essential. Hire a trainer who specializes in off-leash techniques. Or try it yourself: The internet is filled with good articles on how to train your dog to go off-leash.
If you are beginning with a puppy, begin simple puppy training immediately. Your goal is to produce an exceptionally well-trained dog who responds to voice commands even under complicated circumstances. And, of course, it almost goes without saying — never let a puppy run free.
All Dogs Are Not the Same
Some dogs will never be able to reliably run free, regardless of the training.
These include:
Frightened or shy dogs
Breeds with a strong prey drive
Hunting dogs without solid training
Dogs with stubborn temperaments or aggression issues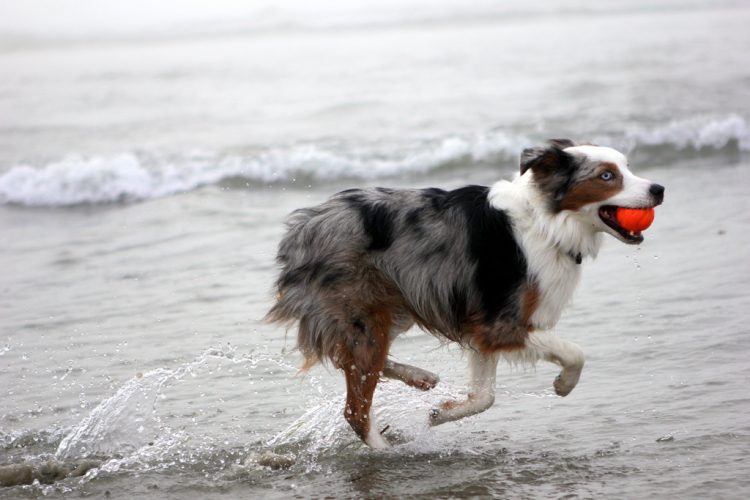 Location, Location, Location
Rural settings
These areas afford the best options for leash-free running. Trails and fields far away from traffic, protected conservation areas and dog-friendly beaches and lakes are paradise for dog adventures.
Voice command is still essential, however, no matter how remote or unpopulated the area. Training is the key, and so is knowing that no off-leash running is ever 100% safe.
Suburban areas
They often provide large outdoor spaces, trails and dog-friendly parks. But if your suburb is densely populated, be wary of your proximity to traffic, people, dogs and children.
The quick, jerky movements and no-boundary behaviors of children can startle even a well-behaved dog. Off-leash running should not occur around unfamiliar children.
Urban areas
Cities have few off-leash opportunities as a rule. Large city parks may have areas designated as dog-friendly, and there are always dog parks. Dog parks have their own set of safety issues, and some dogs may love other dogs on a walk but never seem comfortable in a dog park.
Once the leash comes off, this dog knows exactly where to go:
Benefits
After intense training, if your dog's temperament and your environment lend themselves to the safest possible off-leash running, your dog can benefit from the freedom to exercise and explore as well as the freedom of expression.
Was YOUR Pet Food Recalled?
Check Now: Blue Buffalo • Science Diet • Purina • Wellness • 4health • Bravo • Canine Carry Outs • Taste of the Wild • See 200+ more brands…
Exercise
This is good for the body and soul. Many of my patients' behavior problems are caused or intensified by lack of exercise. Destructive behaviors, inappropriate jumping or vocalizing, separation anxiety and even house soiling can be helped with more exercise.
This, however, is often a double-edged sword: Dogs with a lot of pent-up energy who need lots of exercise may also be the dogs who lack training. Train first, run later.
Explore
Exploration enriches your dog's life. Stopping along a run to sniff, poke (no porcupines, please) and paw! Freedom gives those busy noses, eyes, ears and feet stimulation. This improves your dog's mental agility.
Expression
Think of a field with a pond, for example. Some dogs run right into the water without a moment's hesitation. Others stand by the water's edge, transfixed by the ripples of a fish or a frog. Bruno might run into the field, stop, wiggle and roll while Pickles runs in circles and Tinkerbell jumps in the air for joy.   
Physical and mental exercise is great for your dog. As long as you assess your dog's temperament, train extensively and take every safety precaution and accept but minimize the risk, freedom to run free is a wonderful gift for both you and your dog.
Best Way to Keep Your Dog Fit and Happy
Looking for a way for you and your dog to get healthy together?
Check out the FitBark 2 (affiliate link), the highest-rated dog health monitor in the market. It's a small, colorful device that you attach to your dog's collar.
The FitBark 2 monitors activity levels, quality of sleep, distance traveled, calories burned, and overall health and behavior 24/7. Battery life is an unbelievable 6 months, so you can worry less about recharging and more about bonding with your pup. It fits dogs of any size, and it loves the water as much as your dog does!
Learn why everyone is thrilled about the FitBark 2 here (affiliate link).


This pet health content was written by a veterinarian, Dr. Debora Lichtenberg, VMD. It was reviewed for accuracy by Dr. Pippa Elliott, BVMS, MRCVS, and was last updated Oct. 11, 2018.