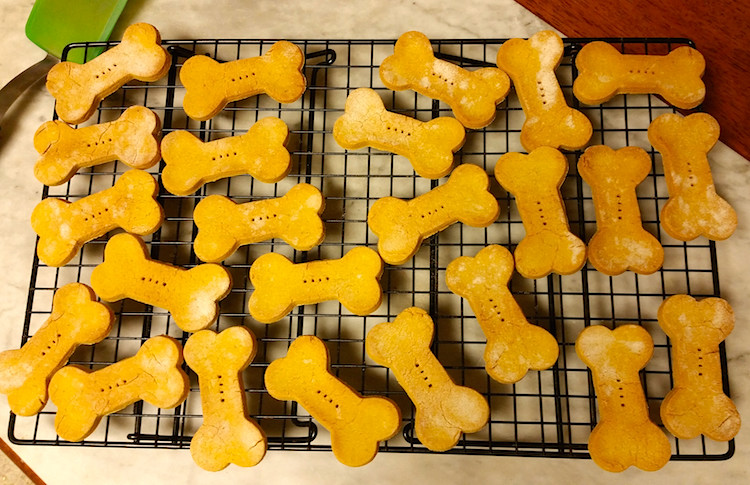 Halloween is here, and soon it will be time to start gearing up for Thanksgiving — and more food. Just one problem — what to do with all that leftover pumpkin? I have the perfect solution: Use it to make pumpkin treats for your pet.
Just remember to consult your veterinarian before making changes to your pet's diet and to read food labels carefully. Also, go easy on the treats. "Small amounts of pumpkin can keep a pet 'regular,'" says Dr. Debora Lichtenberg, VMD, but a lot of it "can cause diarrhea."
With that in mind, please enjoy this list of treats that are easy to make.
1. Pumpkin Pie Cookies
Containing applesauce, oatmeal and pumpkin, these cookies are sure to be a hit. Plain, unsweetened applesauce is best — it's the holidays, and even pets should watch their calories.
Ingredients:
1 cup grated carrots
½ cup applesauce
1 cup canned pumpkin
2 cups rice flour
½ cup oatmeal
¼ cup flour for rolling
Directions:
Heat your oven to 350 F. Blend carrots, applesauce and pumpkin using a food processor until smooth. Mix rice flour and oatmeal in a bowl. Add the wet ingredients to the dry and mix gently to form a dough.
On a floured breadboard, place dough and roll out to about ¼ inch thick. Cut out cookies using your favorite cookie cutters. Bake for 12 minutes on a greased cookie sheet, turning just after the halfway point.
Recipe via: ASPCA
2. Peanut Butter and Pumpkin Dog Treats
If you have a dog who loves peanut butter, this is the recipe for you. The whole wheat flour makes them a bit healthier.
Ingredients:
2 ½ cups whole wheat flour
2 eggs
½ cup canned pumpkin
2 tablespoons peanut butter
½ teaspoon salt
½ teaspoon cinnamon
Directions:
Heat the oven to 350 F. Whisk all ingredients together in a bowl. Add a little water as needed to form a workable dough. Roll out to ½ inch thick. Cut out cookies. Bake for about 40 minutes.
Source: All Recipes
3. Grain-Free, No-Bake Peanut Butter & Pumpkin Dog Treats
This recipe comes courtesy of Petful fan Jodi Chick on her blog, Kol's Notes. Thank you, Jodi!
The treats are no-bake, easy to make (hey, moms — great activity for bored kids) and grain-free for dogs who can't eat grains.
Ingredients:
Was YOUR Pet Food Recalled?
Check Now: Blue Buffalo • Science Diet • Purina • Wellness • 4health • Canine Carry Outs • Friskies • Taste of the Wild • See 200+ more brands…
½ cup coconut flour
4 tablespoons peanut butter
8 tablespoons canned pumpkin
½ teaspoon cinnamon
¼ teaspoon ginger
Small dab of peanut butter (optional)
Finely shredded coconut
Directions:
Combine the first 5 ingredients to form the dough. Work in a small amount of peanut butter if the dough is crumbly. Roll into balls, then roll each ball in the coconut (or powdered carob).
Source: Kol's Notes
4. Roasted Pumpkin Seed Snack
Pumpkin seeds are a cinch to roast. They're a healthy snack, and your pet will love them. This recipe will take less than half an hour. If you have a ton of seeds left over after Halloween (and I always do), give this recipe a try.
Ingredients:
Directions:
Prepare the seeds by rinsing them and picking out the pulp and goopy pumpkin stuff. Heat the oven to 325 F. Spread the seeds on a very lightly oiled baking sheet. Bake about 20-25 minutes until nicely toasted, stirring every 10 minutes.
Source: Will My Dog Hate Me?
Photo: sushi_kato
5. 4-Legged Pumpkin Cookies
Both dogs and cats like these cookies. Plus, the mixture is creamy enough to put into a pastry bag if you have one. If not, prepare them as you would drop cookies.
Ingredients:
15-ounce canned pumpkin
½ cup nonfat powdered milk
½ cup cream of wheat cereal (quick-cook type)
¼ cup Mixed Grain baby cereal
Directions:
Heat the oven to 300 F. Mix all ingredients in a bowl. Use a pastry bag to pipe shapes onto a baking sheet lined with parchment paper. Bake for about 20 minutes.
Source: Farmgirl Gourmet
6. The Easy Way
This really is the easiest recipe of all. Just feed your pets a little pureed pumpkin with their regular food. No fuss, no muss and it takes about 10 seconds. Bam! You're faster than Emeril.
There were so many more recipes that didn't make it onto this page, for lack of space. (The way my editor slashed this article down reminded me of a scene from Nightmare on Elm Street, which I guess is fitting for Halloween.) If you're hungry for more, check out these pumpkin apple treats or these pumpkin and bacon treats.
No matter which recipe you decide to go with, you'll use up your leftover pumpkin — and you make your pets happy.