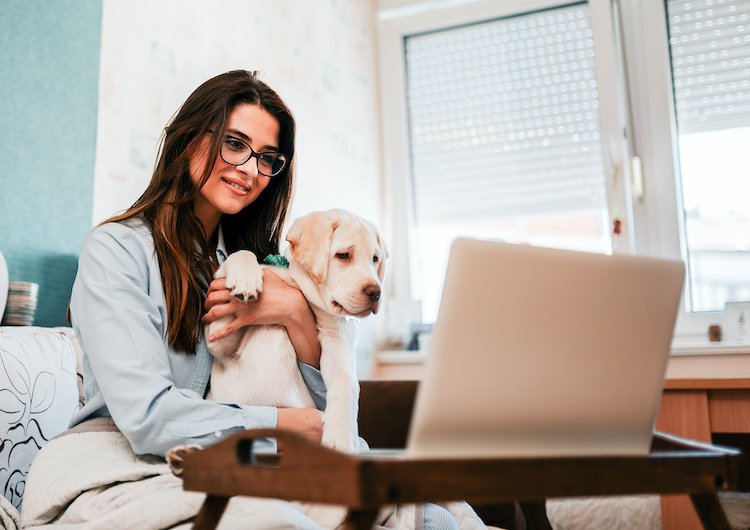 Why use veterinary telemedicine right now?
Because stay-at-home guidelines during the COVID-19 pandemic are very important in your area.
Because you feel sick.
Because you don't have an emergency problem with your pet but have concerns.
Telemedicine does not replace an office visit. Some medical problems are absolutely not suitable for a telemedicine visit. Also, you must have a relationship with your veterinarian in order to legally participate in a telemedicine visit. This is called a veterinarian-client-patient relationship (VCPR).
Telemedicine is not the same as an advice phone call. Expect to pay for your telemedicine visit, just as you would an office visit in most cases.
COVID-19 is not making life easy for vets or pet parents alike. You might wonder if telemedicine may be a great way for your vet to "see" your pet while you stay at home. It might be. The success of veterinary telemedicine depends on your expectations and the nature of your pet's medical problem.
Telemedicine has been much slower to reach veterinary medicine than human medicine. The biggest reason for this is that pets, unlike human patients, "can't tell us what's wrong with them," as Dr. Shelly Zacharias, DVM, VPM, explained to Wirecutter.
A person can readily describe a medical condition to a physician or nurse practitioner via telemedicine. But a Poodle can't tell the vet where it hurts!
Veterinary telemedicine is often dismissed because of how important the "hands-on" examination is in diagnosing a pet's problem. While this is true, with a good history from the client and the technological help of Zoom or Skype, veterinary telemedicine can sometimes suffice and help you stay at home in this time of COVID-19.
Veterinary Telemedicine Can Never Replace an Actual Visit
If your expectations are in the right place before your virtual veterinary visit, you will be much happier by the end of it. Here's how to set it up.
First, you call your vet's office, just as you would when making any  appointment, and discuss what is going on with your pet. The customer service representative or veterinary technician will advise you on whether or not they think your concern about your pet is suitable for a virtual visit.
But there's a big gray area here, and the tech might not be able to know for sure if the veterinarian can diagnose and prescribe without an office visit.
Your veterinary telemedicine visit will result in one of these outcomes:
Your visit has been a success and your vet decides she has enough information to make a diagnosis, give you advice and a plan, and prescribe medication if indicated, which you can pick up at the office or have shipped to you.
Or your vet urges you to bring your pet in because:
The problem can't be diagnosed without a hands-on visit.
Your pet needs diagnostics or treatment that can be given only in the veterinary clinic.
Your pet is probably very sick and needs to come in right away.
Don't be disappointed if your veterinary telemedicine visit ends up with your vet urging you to bring your pet in in person. Don't think it was a complete waste of time (and money), because it wasn't.
Your vet devised a treatment plan even if it's not the plan you wanted, which was to stay at home. Rather than worrying and second-guessing yourself about your pet's condition, you got an answer.
One of the worst things about being shut in during COVID-19 is the worry it brings many people about the status of their pet's health. How serious is this thing going on with my pet? Should I or shouldn't I bring the pet in? Do I really want to keep fighting with my partner about what is the next right thing to do? Veterinary telemedicine can help ease this uncertainty.
Be Ready for Your Close-up, Lassie!
Preparing for your veterinary telemedicine visit is key to success:
ADVERTISEMENT
Have a clear and concise history of your pet's problem and be ready to tell your vet.
Have some physical help if you are going to lift up, position or walk your pet around for the show-and-tell part of your visit.
Be able to shift positions or the lighting if it's important for your vet to see something up close, such as an incision.
Make Sure You Have an Existing Relationship With Your Vet
If you don't have a veterinary-client-patient relationship, then veterinary telemedicine is probably out of the question, both ethically and legally.
Some of the usual VCPR restrictions have been temporarily eased by regulators during the COVID-19 pandemic, but different states still have different guidance in place.
VCPR is a very serious matter for veterinarians. Every state has a veterinary board, and these boards regulate telemedicine consults. The regulations vary dramatically from state to state. In this time of COVID-19, veterinarians have been rushing to figure out what exactly their state mandates in terms of what is and is not allowed via telemedicine. If vets don't comply with their state's board, their veterinary license can be in jeopardy.
Just like the changing COVID-19 regulations or recommendations plaguing the entire country as each state, city or region makes its own rules, the same mess is occurring with veterinary telemedicine regulations.
Was YOUR Pet Food Recalled?
Check Now: Blue Buffalo • Science Diet • Purina • Wellness • 4health • Canine Carry Outs • Friskies • Taste of the Wild • See 200+ more brands…
When you make your phone call to your vet, the customer rep can most likely tell you if you have a valid VCPR. Be aware that you probably can't expect to have a telemedicine consult if your pet has never been seen by the veterinarian or if it has been more than 1 year since you have been to the vet.
Some states are more stringent than this: Your pet may have had to have been seen within the past few months.
Is Veterinary Telemedicine Suited for All Problems?
The answer is a resounding no. You will receive initial guidance on whether or not you should make a virtual appointment when you call the office.
If the front desk can't guide you on what to do, they may book a telemedicine appointment so your vet can make the decision.
Recheck or progress exams may lend themselves well to telemedicine. Depending on the original problem, your veterinarian can check incisions, look at certain growths or dermatologic conditions, and check wound healing if you have good lighting for your telemedicine visit.
A recheck of an ear or eye problem, however, would probably not be possible without your vet being able to look down the ear canal with an otoscope or do an ophthalmology exam with an ophthalmoscope.
Diarrhea and GI problems can usually be triaged via telemed. If the pet is not dehydrated or in extreme distress, medications and advice can often be dispensed without bringing the pet in.
Orthopedic problems cannot be diagnosed onscreen, but your vet can see how bad a limp is, for example, and often have a baseline idea of whether rest and anti-inflammatories would be appropriate for 1–2 weeks versus having the pet come in for X-rays.
Payment for Veterinary Telemedicine
Veterinarians charge for telemedicine visits. These consultations are generally charged the same as an office visit. You will probably be asked to pay by credit card at the time of the visit.
Bear in mind that veterinarians are extremely stressed right now, just like the rest of the world. Life inside many veterinary hospitals has been completely disrupted. Social distancing has added many more steps to a basic visit, which means everything is taking more time.
Your vet may not be seeing as many wellness appointments, but they are treating the pets that must be seen as well as integrating high-quality telemedicine into a basic day.
Some hospitals are trying to work in teams so that if one member of the team gets sick, that team can self-quarantine without having to shut the hospital down. Other hospitals are short-staffed because employees are out sick.
In this news segment, Dr. Lori Teller, DVM, DABVP, CVJ, discusses how these virtual visits work:
Crazy Times
It looks like "normal" is a long way off. Some folks are dealing with that fact better than others. Heightened stress and anxiety is a normal consequence of these abnormal times.
As health professionals, we want to take care of you by continuing to take care of your animals during COVID-19. Veterinary telemedicine can be another useful tool in the pandemic toolbox, a toolbox most of us haven't opened before.
References

This pet health content was written by a veterinarian,
Dr. Debora Lichtenberg, VMD
. It was last reviewed April 28, 2020.
If you have questions or concerns, call your vet, who is best equipped to ensure the health and well-being of your pet. This article is for informational purposes only and is not a substitute for professional medical advice, diagnosis or treatment. See
additional information
.