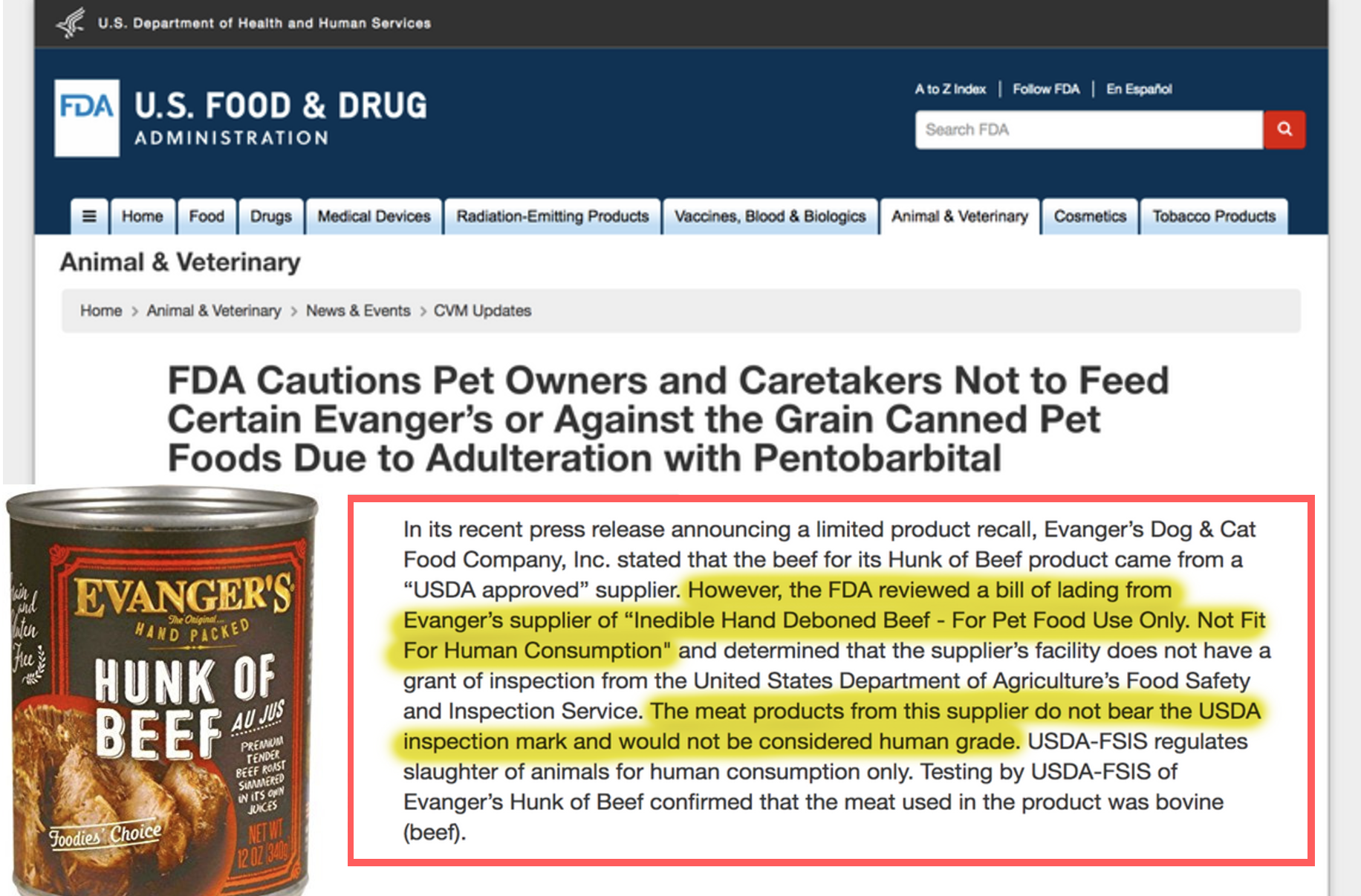 Uh-oh. Evanger's has a problem.
Here's what Evanger's Dog & Cat Food Company boldly proclaims on its website:
"We take a tremendous amount of joy and pride in manufacturing what we truly believe is the best pet food in the world…. Evanger's utilizes human-grade USDA inspected meats…."
And here's what the company said in a press release announcing that its Hunk of Beef dog food formula had been recalled recently:
"All Evanger's suppliers of meat products are USDA approved. [Cows] are slaughtered in a USDA facility."
But the FDA begs to differ.
In a startling rebuttal, the Food and Drug Administration released a letter of caution today that directly called out Evanger's. The regulatory agency said its inspectors had seen with their own eyes a receipt demonstrating that Evanger's supplier was providing meat that was "inedible" and "not fit for human consumption."
Whoa.
Not only that, but the supplier, in fact, had no USDA association. "The meat products from this supplier do not bear the USDA inspection mark and would not be considered human grade," the agency wrote.
The FDA said its own tests had definitively confirmed the presence of pentobarbital — a drug used for euthanasia in animals — in unopened cans of both Evanger's and Against the Grain canned dog food from specific lots. That's a direct link from the food to a now-deceased pug whose stomach contained pentobarbital, according to necropsy results.
"Pentobarbital is a drug that is used in animal euthanasia. It should not be in pet food," the FDA said in its caution letter.
It Gets Worse
Even with all that bad news, things got worse for Evanger's.
The FDA mentioned as well that its recent inspections of the pet food maker's 2 manufacturing facilities in Illinois didn't go very smoothly, pointing out "numerous" and "significant" concerns about the conditions there.
Inspection reports revealed peeling paint and mold on the walls, as well as condensate that was "dripping directly into open cans of … Hunk of Beef, and also into multiple open totes of raw meats."
You read that right — gross stuff on the ceilings was dripping directly onto the food, as inspectors watched on in astonishment.
There also was no refrigerated storage of raw meats in one of the facilities, according to the inspection reports. And raw meat was being prepared "while having direct contact with the insanitary, bare, paint peeling and unprotected concrete floor of the processing facility."
In addition, the FDA noted a "live fly-like insect" in an area where dog food was being packed. And birds were seen congregating in the rafters above and eating spilled pet food on the floor.
This was, needless to say, a devastating report for Evanger's. It may open the company up to potential lawsuits stemming from the recent recalls. One dog — a cherished member of a family — has died and several others were injured, which is what prompted the initial recall.
"I lost my dog, and it shouldn't have to be this way," says Nikki Mael.
Evanger's and sister company Against the Grain have blamed the tainted meat on one of their longtime beef suppliers — since fired — as well as a perceived "lack of regulation" regarding pentobarbital in pet food. The FDA and USDA simply haven't done enough to make sure their own food is safe, they say.
Hunk of Beef is Evanger's best-selling product, with more than 1 million cans sold per year.
Other Takeaways
Other takeaways from the FDA's letter today:
The meat from the dog food was definitely BEEF, as advertised on the labels. Many people over the past few days had speculated that the source of pentobarbital was euthanized horse meat, or possibly even euthanized dogs and cats. However, the FDA investigation has "confirmed that the meat used in the product was bovine (beef)." We still don't know how meat from a euthanized cow (or cows) got into the food, because this is apparently illegal, and Evanger's refuses to identify its now-former supplier.
The federal investigation is ongoing. The FDA hinted that other recalls may follow, mentioning the possibility of "areas of shared jurisdiction at the suppliers." This is because Evanger's manufactures canned pet foods for several other brands. Even Evanger's itself has mentioned that the supplier of "this specific beef … also services many other pet food companies." That means other recalls may be on the way. This is a big deal.
This is not over. We'll be continuing to follow this story as it develops.
Don't miss our previous coverage:
Stay Up to Date on Recalls
If you've not signed up to receive Petful's email newsletter and recall alerts, do yourself a favor and subscribe now. It's a free service, and you'll know about pet food recalls as soon as we find out about them.
Meanwhile, you can check out the complete recall history for nearly 300 brands of pet food on our website. We spent months putting together this comprehensive resource for our readers, and we continue to add to it regularly.