Petful is reader-supported. As an Amazon Associate, we may earn an affiliate commission when you buy through links on this page.
⚠ Important recall information appears below.
Cesar dog food products are manufactured in the United States under the Mars Petcare division of Mars Inc. The company's headquarters is in McLean, Virginia.
Cesar traces its history back to the 1930s when it was known as Kal Kan, but the Cesar brand name wasn't used for dog food in the United States until more than a half-century later.
Below, we share more information about the history of this pet food — including up-to-date Cesar dog food recall information.
Cesar Quick Facts
Brand line includes: Cesar Classic Loaf in Sauce, Cesar Filets in Gravy, Cesar Loaf & Topper in Sauce, Cesar Simply Crafted, Cesar Minis, Cesar Home Delights, Cesar Puppy, Cesar Softies, Cesar Meaty Bites, Cesar Jerky Bites
Cost: $
Where to buy: Latest deals on Cesar dog food
Company: Mars Inc.
Headquarters: 6885 Elm St, McLean, VA 22101
Contact info: 1-800-525-5273, email, website
Cesar Dog Food History
Cesar started out in 1936 as a canned food called Kal Kan. It was manufactured in Vernon, California, near Los Angeles, by a company then called Stirling Packing Company.
Stirling Packing brought 2 niche businesses together. By slaughtering horses that had outlived their usefulness, they could provide affordable dog meat for a nation that, at that time, did not have so many tender feelings for horses as we do now.
By 1946, this operation had been reincorporated as Kal Kan Foods Inc. In that year, the corporation registered the Kal Kan trademark under the honest description "canned horse meat and gravy."
In 1952, the Kal Kan plant in Vernon came under the leadership of the Butchers Local 563 union. Kal Kan Foods continued to expand until it had factories in several United States locations.
Under Mars Inc. Leadership
In the 1960s, Kal Kan was bought out by Mars Inc., a company still better known for chocolate bars and M&Ms.
By the 1960s, most dog food manufacturers were buying surplus and below-grade vegetables as ingredients in their dried dog food. Meat was traded out for soybean and corn derivatives to make dry food, while canned dog food continued to contain mostly meat that was not deemed fit for human consumption.
However, that trend had to change as dog food consumers more and more saw their pets as family members and child surrogates. In 1988, Mars changed the name of its entire dog food line to Pedigree.
Mars Stays on Top of Trends
Mars Inc. has fought hard and successfully to anticipate market changes, and the transition away from the well-known brand name "Kal Kan" dovetailed with a sea change in how consumers view and talk about their pets.
In the 1980s, it became much more common for people to view their pets, including rescued dogs and cats, highly. Whether or not those animals were show champions or registered breeds, they were now family.
The name "Pedigree" kept pace with the transition of dogs from secondary citizens to family members.
The success of Mars is also built on an early recognition that consumers love an infinite variety. To that end, the company launched a subcategory of dog food called Pedigree Select, which was marketed specifically for small breed companion dogs.
Cesar: A Dog Food for Small Dogs With Big Personalities
Pedigree Select became Cesar Select Dinners in the late 1990s. The Cesar brand name had been popular in Europe and Asia, but it was all new to U.S consumers.
Underlying the marketing for Cesar was the assumption that people with smaller dogs often see their pups as amusing Napoleonic figures, making demands that are out of proportion to their size.
Was YOUR Pet Food Recalled?
Check Now: Blue Buffalo • Science Diet • Purina • Wellness • 4health • Canine Carry Outs • Friskies • Taste of the Wild • See 200+ more brands…
A TV ad from around the time of the name change illustrated this marketing mentality. The ad featured an imperious small breed pulling his person out of bed by the pajama bottoms. The tagline: "What do you feed the head of the household? Only the best."
Cesar was being packaged in small oval tins, just like another Mars Inc. brand, the cat food Sheba.
The octagonal tray design is patented, and the company has trademarked both the individual food containers and the famous image of Cesar dog food's little white dog, a West Highland White Terrier.
Options Aplenty
In 1998, Ad Age reported that Cesar was the 7th best-selling dog food brand in the United States, with revenues of $43 million. Simultaneously, the reporter asked, "How many breed-specific or size-specific brands [can] the market … support?"
That article went on to question whether there would be room in the grocery stores and pet stores for so much diversification: "There's only so many you can stock."
History has shown, however, that bigger stores can be built — and that consumers do, in fact, want a near-infinite variety of options.
Companies that failed to realize this trend fell behind, while Mars continued to expand.
As of 2020, Mars Petcare Inc. was the No. 1 pet food company in the world, with over $18 billion in annual revenue, according to data provided by Pet Food Industry.
Recipes to Suit Every Need
Cesar has an array of recipes and formulations, ranging from Classic Loaf in Sauce to Home Delights.
Cesar's Simply Crafted line is designed as a limited-ingredient complement to regular meals. Each one is made with a handful of ingredients and no artificial colors or flavors. For example, Simply Crafted Chicken contains only 100% real chicken and water.
Cesar is described as a gourmet wet dog food that has been formulated for small dogs of all ages. "These meals are designed to satisfy even the pickiest eaters," according to Cesar.
In the next section below, we discuss the Cesar dog food recall history.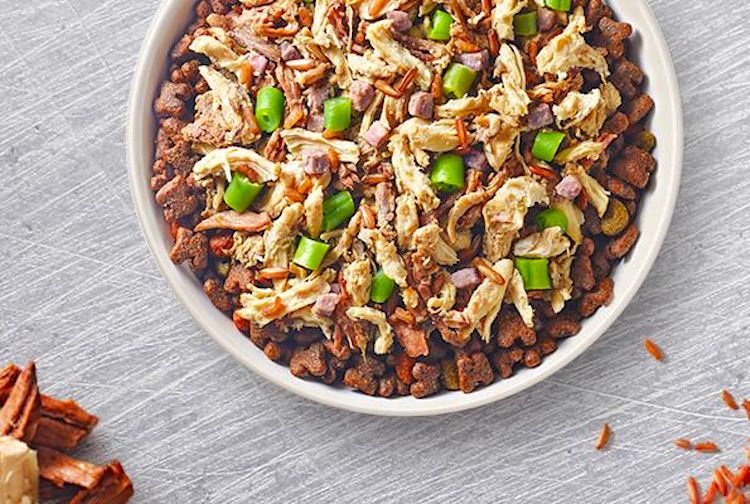 Has Cesar Dog Food Ever Been Recalled?
Yes, there has been one Cesar dog food recall in recent years.
In October 2016, Mars Inc. recalled certain lots of Cesar Classics Filet Mignon wet dog food after receiving reports of tiny pieces of plastic being found in the food.
"While a small number of consumers have reported finding the plastic pieces, we have not received any reports of injury or illness associated with the affected product," the company said. "We sincerely apologize for any inconvenience caused by this recall."
Several days after the recall was announced, a Maryland woman reported her dog had died after eating Cesar Filet Mignon. She didn't realize it had been recalled.
The woman told reporters that after eating the food, her dog "looked really terrible," "had a hard time breathing" and then vomited up "big plastic things" before collapsing. He died in her arms as she was carrying him outside to rush him to the vet.
Mars Inc. responded that it was investigating the claims.
During follow-up safety inspections 9 months later, the company conceded it was still receiving consumer complaints about foreign objects — including insects — in various brands of its pet food, such as Pedigree. Mars insisted it was working to fully implement corrective actions.
Pest control records at a Mars canning facility in Columbus, Ohio, noted damaged cans covered in flies, and dozens of employees had complained about cockroaches in the area, especially at night. Different employees described seeing "multiple roaches," an "invasion of roaches," "roaches everywhere" and even "millions of roaches" — which we hope was an exaggeration.
Inspectors from the U.S. Food and Drug Administration (FDA) themselves observed 2 live roaches. The FDA stressed the seriousness of the pest problem, and the company "promised correction."
Full details of the 2016 recall appear below. The Petful research team found no other U.S. recalls for Cesar dog food or its predecessor, Pedigree Select, in our extensive search of news archives going back more than 30 years.
List of Cesar Dog Food Recalls
October 2016
Cause: Potential for choking hazard from plastic pieces. Announcement: Company announcement dated Oct. 7, 2016 (archived here). What was recalled: The following packages of Cesar Classics Filet Mignon wet dog food:
Individual packs with "best by" date of Aug. 4, 2018 or Aug. 5, 2018 AND Lot #631FKKC or 631GKKC
Variety packs with "best by" date of Aug. 4, 2018 or Aug. 5, 2018 AND Lot #632D14JC, 633B24JC, 634A14JC, 634A24JC, 634B14JC, 634B24JC, 634E14JC, 635A24JC, 635B14JC, 636D24JC or 636E14JC
If you have not done so already, we urge you to sign up now for Petful's FREE recall alerts by email. Our free alerts are saving pets' lives.
Have You Had a Problem With Cesar Dog Food?
See our reporting page for contact info.
Leave a comment below to share your experience with others.
References
"Kal Kan Foods Inc. History." FundingUniverse.com. http://www.fundinguniverse.com/company-histories/kal-kan-foods-inc-history.
"Kal Kan Foods Inc. Trademarks." Justia. https://trademarks.justia.com/owners/kal-kan-foods-inc-12223/.
Lazarus, George. "Kal Kan Getting a New Pedigree." Chicago Tribune. Aug. 12, 1988. https://www.chicagotribune.com/news/ct-xpm-1988-08-12-8801220385-story.html.
Pollack, Judann. "Mars' Kal Kan Rebranding Pedigree Select as Cesar: Marketer Brings Name From Asia, Europe to U.S." Ad Age. June 15, 1998. https://adage.com/article/news/mars-kal-kan-rebranding-pedigree-select-cesar-marketer-brings-asia-europe-u-s/65512.
"Top Pet Food Companies Current Data." Pet Food Industry. 2020. https://www.petfoodindustry.com/directories/211-top-pet-food-companies.
"Notice: Voluntary Recall." Cesar. Oct. 7, 2016. Archived at https://www.petful.com/wp-content/uploads/2019/08/cesar-2016-dog-food-recall.pdf.
"Pasadena Woman Says Recalled Cesar Dog Food Killed Her Dog." WMAR-2 News Baltimore. Oct. 13, 2016. https://www.wmar2news.com/news/region/anne-arundel-county/pasadena-woman-says-recalled-cesar-dog-food-killed-her-dog.
Entis, Phyllis. "'Millions' of Roaches Plagued Maker of Pedigree, Iams, Cesar, Other Pet Foods." Food Safety News. June 7, 2018. https://www.foodsafetynews.com/2018/06/millions-of-roaches-plagued-maker-of-pedigree-iams-ceasar-other-pet-foods/.
"Establishment Inspection Report: Mars Petcare US Inc." U.S. Food and Drug Administration (FDA). July 26, 2017.