The Columbian newspaper of Vancouver, Washington, is reporting that horse DNA has been discovered in tested samples of Evanger's Hunk of Beef canned dog food. Hunk of Beef is marketed as an all-beef product. In fact, the only ingredient listed on the can is "100% Whole Beef Cooked In Its Own Juices."
"The company sent the food out for DNA analysis, and the results showed beef, as well as horse DNA," the newspaper said Evanger's co-owner Joel Sher stated in an interview.
The testing was ordered by the company itself after 1 dog died and several others were sickened from complications apparently caused by the presence of pentobarbital in the dog food. Pentobarbital is often used by veterinarians to euthanize animals.
This afternoon, Petful confirmed with writer Adam Littman of The Columbian that Sher did indeed tell him that horse DNA had been discovered during testing.
Oddly enough, earlier testing by the USDA Food Safety and Inspection Service, at the request of U.S. Food and Drug Administration (FDA), did not find anything except bovine DNA (beef). However, the FDA confirmed that pentobarbital was found in some unopened cans of Evanger's Hunk of Beef dog food, as well as in canned dog food from an associated brand, Against the Grain.
The FDA also said it had obtained evidence showing that not all of Evanger's meat was "human-grade," as the company has long claimed. In fact, the agency said, a bill of lading listed the food as "inedible" and "not fit for human consumption."
The FDA's investigation is ongoing.
Specific lots of both dog foods have been recalled. In an interview with Petful yesterday, Sher said an expanded recall was imminent, with all pet food made with "chunk beef" soon to be pulled from store shelves. Evanger's blames one of its suppliers for the adulterated pet food, saying the supplier has since been fired.
Hunk of Beef is Evanger's No. 1-selling product. The company has temporarily removed the product from its website.
What Other Pet Foods May Be Affected?
Evanger's produces canned pet foods for a number of other pet food brands. However, the company refuses to name those brands, citing confidentiality agreements. Joel Sher has told Petful that none of the other brands use the chunk beef, so he says there's nothing to be concerned about on that front.
In the coming days, expect consumers to begin demanding to know whether or not their pet foods are made by Evanger's. In the interests of their pets' safety, they deserve to know that information.
Petful will be continuing to report on this story as it develops.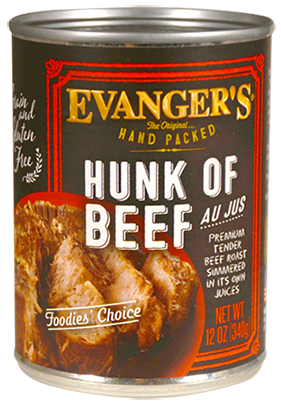 Don't miss our previous coverage: