♥ No recalls — but see below for some important information.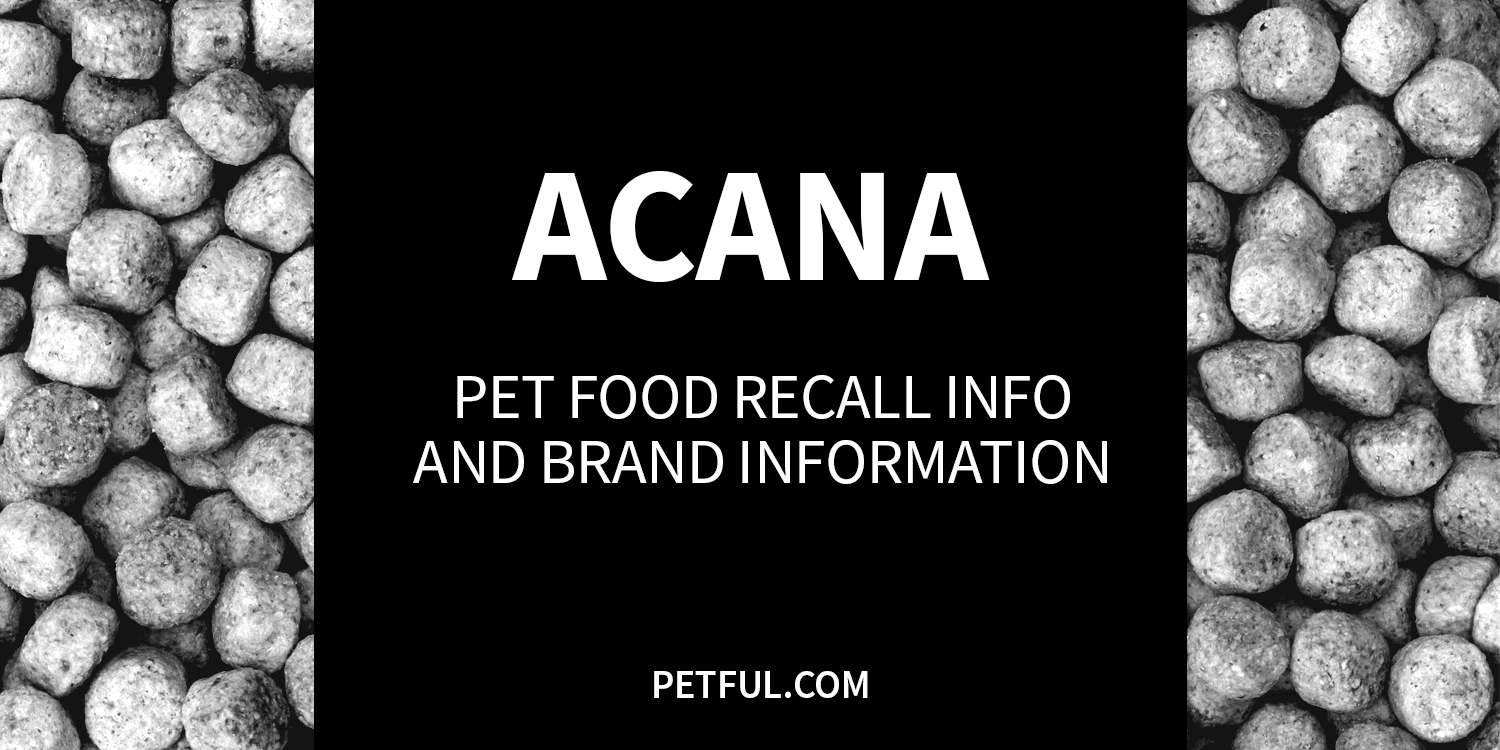 Acana is made by Champion Petfoods, an award-winning, independent pet food maker in business for more than 25 years.
The food is manufactured in Alberta, Canada with fresh ingredients, no added water and no preservatives. The Champion Petfoods company also makes Orijen.
Acana Quick Facts
Brand line includes: Acana Chicken and Burbank Potato, Acana Wild Prairie Grain Free Dog Food, Acana Dog Lamb & Okanagan Apple, Acana Pacifica Dry Dog Food, Acana Ranchlands Dry Dog Food, Acana Grasslands Cat, Acana Grain-Free Dry Cat Pacifica
Cost: $$$
Where to buy: Latest deals on Acana dog or cat food
Company: Champion Petfoods, LP
Headquarters: 11403 186 Street NW, Edmonton, Alberta T5S 2W6 Canada
Contact info: 780-784-0300, website
Has Acana Ever Been Recalled?
No. This brand has not been recalled, according to our research.
However, in late June 2019, the U.S. Food and Drug Administration (FDA) identified Acana as one of 16 pet food brands that may be linked to heart disease in dogs and cats. None of the brands have been recalled as part of the agency's ongoing investigation, though. Most, but not all, of the pet foods are "grain-free" and/or dry (kibble) dog food formulations.
The FDA says this is a "complex scientific issue that may involve multiple factors," and that it cannot even be certain that diet is a cause of the heart problems.
For full details, see our article on the subject.
Also, in March 2018, a class-action lawsuit was filed against Champion Petfoods, accusing the company of "negligent, reckless" practices, false advertising, and "failing to disclose the presence of heavy metals and toxins" in its Orijen and Acana dog foods. In response, the company called the allegations "meritless and based on misinterpretation of the data." More about the Orijen/Acana lawsuit here.
If you have not done so already, we urge you to sign up now for Petful's FREE recall alerts by email. Our free alerts are saving pets' lives.
Have You Had a Problem With Acana?
See our reporting page for contact info.
Leave a comment below to share your experience with others.
Read This Next