As a veterinarian, I want to have all the answers, at least where pet safety is concerned. I get angry when I can't answer what seems like a basic, no-brainer question. This week the stump-the-vet question is about pools, pool water and safety for dogs. As the new owner of a pool for the first time in my life, I had some questions I thought a vet could answer for me.
Wait — I am a vet.
Anyway, we just moved into a house that came with a saltwater pool. Really nice, right? But I don't know jack-hooey about pools. And what's a saltwater pool? Don't you fill those from the ocean?
I'm making fun of myself a bit, but seriously, guys, this idea of a pool and my dog has truly intimidated me. I grew up in Queens, New York. There were no pools, except for city pools where no dogs were allowed. Then I lived in New England for all of my veterinary adult life. Pools were rare. I wasn't asked many pool questions by my clients. Now that I'm watching my own dog in and around my pool, here are my questions and answers.
Teach Your Dog to Swim
This is a no-brainer, right? I would be remiss, however, if I did not impress on any pool owner to make sure your dog knows how to swim.
Not only should you know your dog should be able to swim before it goes near a pool, but your dog should never be left unattended in or around a pool. That may sound insulting to your common sense, but awful stuff happens.
Like children, the pool should be off-limits to your pets if you are not around.
It's easier to teach a dog to swim in a shallow area, like a lake or a pond, before introducing them to a deeper pool.
If a dog can walk into water and swim or be gently placed in a few feet of water and swim to shore with a few doggy paddles, learning to swim is easier.
If teaching your dog to swim in a pool, a doggy life vest is a consideration.
If your dog gets in trouble in a pool, rescuing them can be a danger to people. A medium to larger dog can take a human down easily when they are panicked in a pool. Best to never let this happen in the first place.
Drowning Can Occur in Shallow Water
People might not realize that a dog can panic in a pool, even in shallow water or near pool steps. If a dog isn't used to finding the pool steps or does not have easy access and egress, they can panic and drown.
Beware of standing water in pool covers and small dogs. Sadly, I had a total tragedy occur in New England when toy breed dogs walked on to a covered pool laden with rainwater and drowned in less than a foot of water. Always be vigilant — tragedies do occur.
Common Pool Sense 101: Fencing and invisible fence products are great to keep your dog away from the pool when you are not watching. Nevertheless, don't trust any artificial boundary: The pool fence door might be left open or your invisible fence might be turned off. Keep your dogs away from the pool unless you are with them.
Chlorine vs. Saltwater Pools

There are chemicals in all pools. The classic pool is chlorinated. Saltwater pools require fewer "chemicals," but they still contain chlorine and other residue that should not stay on your dog's coat or be ingested if they take a swim.
Drinking Pool Water

Again, any pool has chemicals in the water, and the pool is not a good source of drinking water.
Common Pool Sense 102:
Don't let your dog drink the pool water as a rule.
A little pool water lapping may be inevitable and should not cause a problem.
Some dogs with very sensitive stomachs may not be able to consume even a little pool water.
Supply clean, fresh water for dogs around the pool area always. Swimming and hot pool days mean more ice tea for you and more fresh water dishes for the canine party pooches.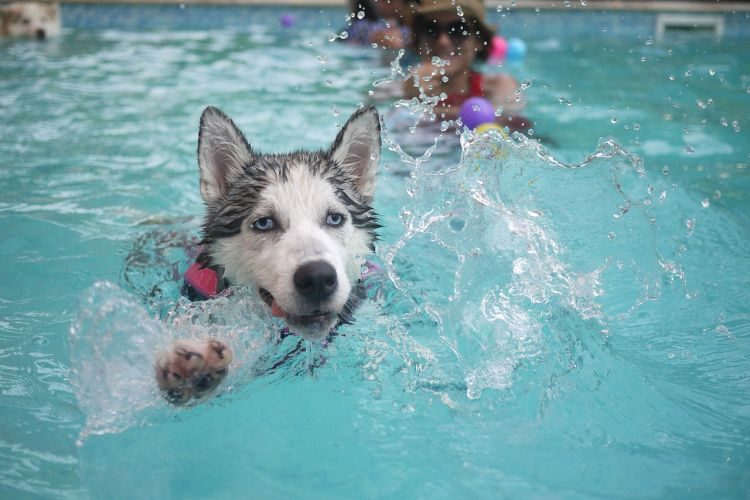 Safety of Pool Water

No chlorine or saltwater residue is nice to have on your dog's coat, particularly because Ms. Beach Beauty will lick herself once she's done with her swim. Humans usually take a quick poolside shower instead of licking ourselves clean (right?).
Common Pool Sense 103: If your dog immerses their beach bathing self in anything but fresh water, try to wash them off with a quick hose, shower or bath.
Think of your dog as having a huge head of hair after swimming. What do we do after a dip in the pool? We towel off and dry our hair. Your dog's coat should be cleaned and not stay wet, and they need your help after a swim in the pool. Depending on the type of hair coat, towel-dry your dog and pay special attention to armpits, groin areas and places where continual dampness can cause skin irritations like dermatitis.
Dog Hair
Humans shed, but not in the same way our fluffy canine friends do. For pool cleanliness, here are some hints to keep the dog hair contamination to a minimum:
If this is a "planned" swim, take a comb to your dog and remove excess hair before their dip.
An average-sized dog equals 3 humans+ in a pool. (The + symbol stands for some fecal matter on the coat, some insects and more dirt, debris, oils and fur than the average human! No matter how you cut it, your dog is usually dirtier than you.)
Your skimmer baskets are usually not good enough to trap all dog hair.
More residue from your dog can mess up all those things that drive you crazy about pool cleanliness. Bottom line: Your dog in the pool makes it harder to keep your pool clean.
Watch this Lab father show his puppies what swimming is all about:
Enjoy Your Pool and Stay Safe
I'm still intimidated by my own pool maintenance, but I think I've answered most of my questions as far as my dog goes. Being watchful means your dog will avoid pool summer hazards. I want your dog to be safe and:
Not drown.
Not drink too much pool water.
Not stay too wet.
Not make the pool skimmer baskets look like a grooming facility.
Enjoy life in and around the pool — but not necessarily in it!
Happy poolside life for all of you canines and humans!

This pet health content was written by a veterinarian, Dr. Debora Lichtenberg, VMD. It was last reviewed July 4, 2018.