If you're like me, you consider your dog to be family.
You do your best to take care of them and keep them happy, but you might not know that the way you've been feeding them is wrong.
Making one of these top 5 mistakes could harm your dog's health and cause a range of problems. Don't be too hard on yourself if you've been making these mistakes — your dog will thank you for making smarter choices.
---
Also on Petful
See why dogs are getting amazing results with this dog food…
---
1. Feeding the Wrong Human Foods
Your dog likely sits near the table while you're eating and gives you puppy eyes, begging for even a small taste of what's on your plate.
Saying "no" isn't always easy, so you scrape a few bites off your plate and set them in the dog dish.
The problem with this mistake is that many human foods are harmful to dogs, especially foods containing lots of sugars or fats. Grapes, avocados, onions and chocolates are also among the foods your dog should never eat because they can cause health complications.
If you're not sure what human foods your dog can safely eat, consult with your veterinarian.
Keep Your Pet Safe! Sign up for FREE pet food recall alerts now.
2. Stopping Bad Behavior With Treats
Have you ever given your dog a treat to stop disruptive or harmful behavior, such as biting or barking?
If you have, you are encouraging your dog to engage in unwanted behavior each time it's hungry for another treat.
For example, your dog is barking at night and won't stop. You go to the cabinet and pull out a few treats to distract them from barking so they don't disturb your neighbors. The next time your dog wants a treat and you don't offer one, they'll sit at the window and bark until you do.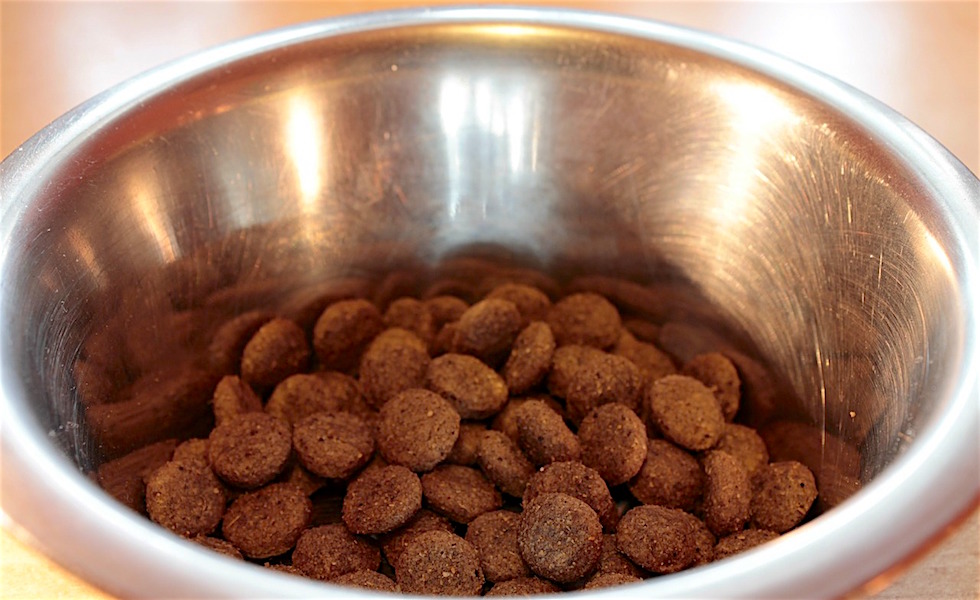 3. Making Sudden Changes to Your Dog's Food
Because you can change the foods you eat without much trouble, you likely believe the same is true for your dog, but it's not.
It's not uncommon for people to go to the store and discover that their normal brand of dog food is sold out. Many of them will switch to another brand of food without thinking twice.
Once a dog grows accustomed to a certain type of food, making sudden changes can upset the dog's digestive tract. If you would like to switch to a different brand, slowly mix the new food in with what your dog usually eats. You will then increase the amount of new food and decrease the old food.
Keep Your Pet Safe! Sign up for FREE pet food recall alerts now.
4. Free-Feeding Your Dog
You might sometimes free-feed your dog, meaning you put food into the bowl each time your dog begs for more. Following in their footsteps like this is a good way to let your dog overeat and gain an unhealthy amount of weight.
Rather than giving food to your dog every time they ask for some, schedule meals and measure the amount you give to promote a healthy diet.
Contact your vet if you don't know how much your dog should eat each day, and you can move forward with confidence.
5. Not Signing Up for Free Recall Alerts
Can you think of the last time you heard about a dog food recall? It probably wasn't too long ago. They happen fairly regularly.
Manufacturers recall pet foods for a wide variety of reasons, from mildly serious issues to life-threatening contaminants.
Many people with pets stay in the dark about new recalls, but not you. Take a moment right now and sign up for Petful's recall alerts. (It's a 100% forever FREE service, and we'll never spam you.)