Disclosure: This page contains affiliate links. This means Petful may receive a small commission, at no additional cost to you, if you click a link and buy The Farmer's Dog meals at 50% off. This helps us fulfill our mission to help as many animals as possible.
Some people have the time, resources and skills required to prepare their dog's meals by hand every day, but realistically, most of us don't.
Instead of relying on commercial dry food or raw prepackaged meals with questionable origins, you might consider giving The Farmer's Dog a try. This company delivers fresh, high-quality dog food that's just about as close to homemade as you can get.
---
Also on Petful
See why dogs are getting amazing results with this dog food…
---
Below are the top 5 reasons to buy The Farmer's Dog food.
1. It Has Human-Grade Ingredients
Every ingredient is easy to pronounce and good enough for humans to eat.
The Farmer's Dog is committed to delivery dog meals that are minimally processed, which means every bite contains more natural nutrients than the traditional, processed foods.
Each ingredient is sourced from local farms and restaurant suppliers. Because they use human-grade, USDA-approved ingredients, you can rest assured that your dog's food adheres to the highest safety standards available.
2. It's Personalized
Like many other popular human food subscription boxes, The Farmer's Dog tailors your dog's meals according to personal information you provide.
The questionnaire on their website asks for information about your pet such as:
Age
Breed
Current weight
Level of activity
Pickiness
Current food selection
You can also fill in any issues your dog might have, such as gas, constipation, anxiety and bad breath. As long as your pet doesn't require a prescription diet, you can complete the online survey quickly and get straight to the meal options.
The questionnaire's algorithm is able to calculate how many calories per day your dog should need and gives you nutritious options based on your answers.
In addition, once your shipment arrives, you will get a feeding guide to ensure you're feeding your dog the right amount of calories every day.
3. It's Delivered Straight to Your Door
Fewer trips to the store for pet food is always a good thing.
When you buy The Farmer's Dog, you get freshly made dog food delivered straight to your home, and you can start out with a sample trial to figure out which varieties your dog likes best.
Because the food is made fresh and free of preservatives, it's best to have the shipments sent somewhere that you can get them refrigerated as soon as possible.
4. It's Quick and Easy
Since most of us don't have the time to spend hours in the kitchen cooking our own meals, it makes sense that the same would be true of cooking for a pet.
Thankfully, now you can buy The Farmer's Dog — fresh dog food that's always ready whenever you need it without the fuss of prepping, cooking and cleaning up.
Each meal pouch is ready for your dog to eat exactly as it is. You don't have to cook, and you don't even have to warm the food first if you prefer not to.
Simply squeeze the right amount into your dog's dish, and you're done. The remaining food can be stored in the refrigerator for the next meal.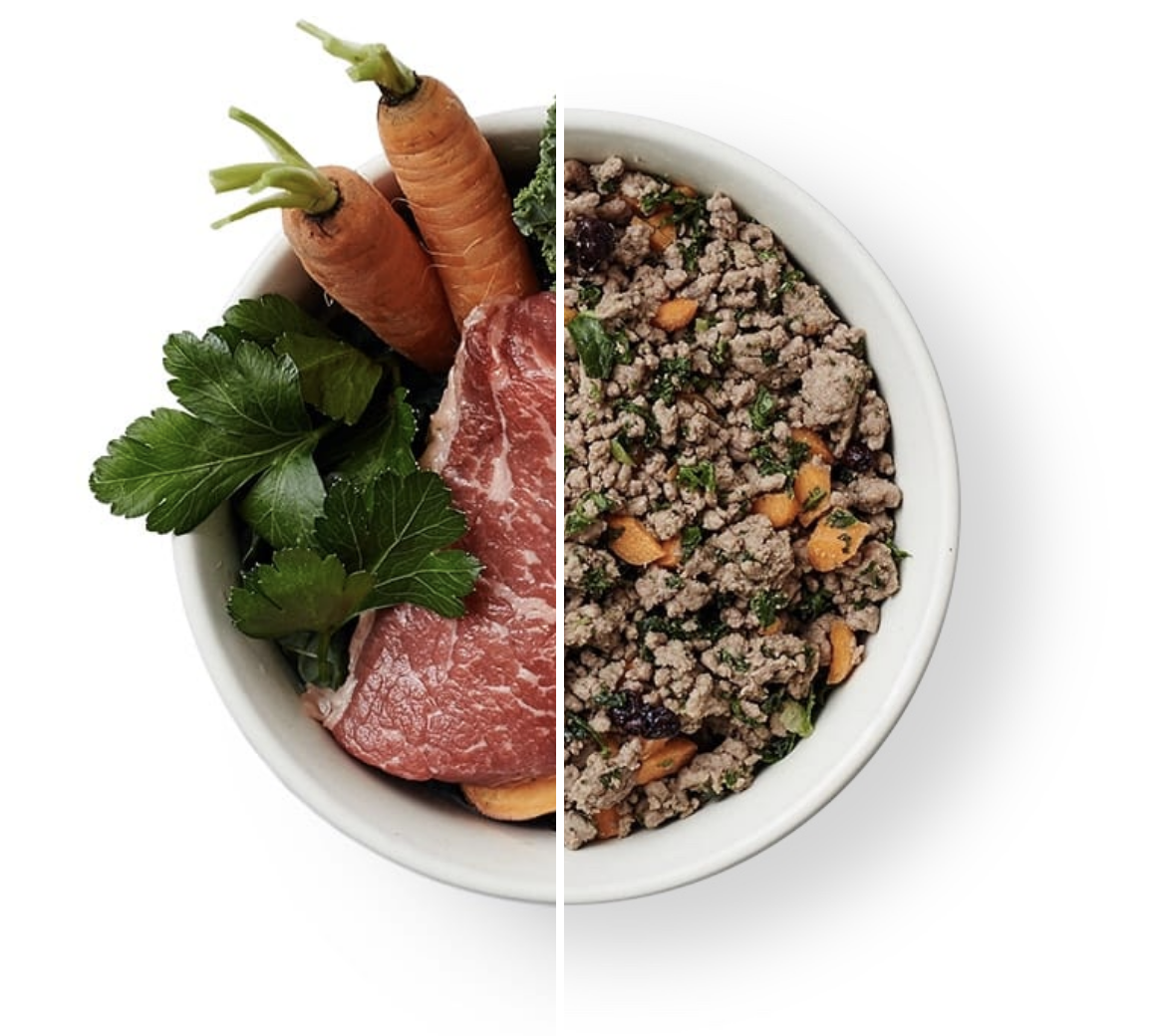 5. It's Nutritionally Balanced and Vet-Approved
While it never hurts to talk to your veterinarian before switching your dog's diet, vets everywhere recommend and love The Farmer's Dog food for their patients.
The company works closely with board-certified vets and veterinary nutritionists to make sure every recipe is perfectly balanced so that your dog gets all the protein, fat and carbohydrates needed to stay healthy.
All of these dog meal deliveries meet the nutritional guidelines set by the Association of American Feed Control (AAFCO). The Farmer's Dog also adds a proprietary nutrient blend to all recipes to ensure proper levels of vitamins and minerals are maintained in your dog's diet.
In this video, I show you exactly what arrives in the box, and what my canine reviewer thought about The Farmer's Dog:
What's Not to Love When You Buy The Farmer's Dog?
As if all of those reasons listed above weren't enough, the company will work with you if you order a food that your dog doesn't like. They can help you adjust your pet's personal profile, and they treat each dog like a member of their own families.
When you buy The Farmer's Dog, cost is determined by your dog's specific nutritional needs, but feeding smaller breeds starts at around $3 or $4 per day, which is a great value for the phenomenal quality of this food.
Your dogs are just as much a part of your family as your partner or kids, and this means they deserve to eat the healthiest, best food possible.
Try out The Farmer's Dog. Your dog will feel the difference — and you'll see it.
Buy The Farmer's Dog – 50% Off Your First Trial
For a limited time, you can get an amazing 50% off your first order. No promo code required. Give The Farmer's Dog a try today and get your pup thriving on a healthy, wholesome diet that's just about the closest thing to homemade out there! Learn more here.