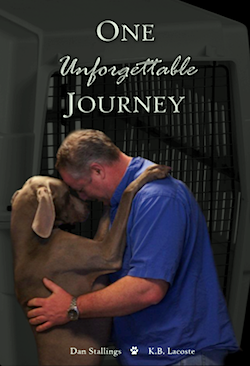 Excitement turned to shock when Dan Stallings saw Maverick for the first time. The Weimaraner was fearful, bone-thin, and had infected sores and overgrown nails. The online ad hadn't mentioned any of this.
Dan, who runs a Weimaraner rescue, knew there was no way he'd leave without taking Maverick home that day, away from this life of misery.
"Did you want to sign him over to the rescue so we can take care of him?" Dan asked the owner. "Can't you see he needs help?"
The frank response was surprising. "Sign him over?" the man said. "I paid for this dog and want some of my money out of him."
Desperate to rescue the dog, Dan paid the man some money, and suddenly Maverick was his. That's the day Maverick's life changed forever. Dan's too.
An Amazing Transformation
[easyazon_link identifier="1477600329″ locale="US" tag="petsadvi-20″]One Unforgettable Journey[/easyazon_link], an excellent new memoir from Dan Stallings, written by Petful editor Kristine Lacoste, chronicles the amazing transformation of a lonely, wounded, neglected pet — once crated for hours on end — into a happy, confident, dazzling dog show contender.
Here's what I like about this story: It's perfect for dog show enthusiasts and animal rescue advocates alike.
Dan knew nothing about dog shows until he began entering Maverick in contests, and so we learn about this strange world as he himself learns.
"Best of breed?" he asks someone early on. "I apologize, but I'm not familiar with what any of that means." In other words, this is a good glimpse into the dog show world for those of us who aren't terribly familiar with it.
But don't think that this is a book just about dog shows, or a book that pretends to be about a dog but is really just about the man behind the dog.
At its heart, this is Maverick's story, and Maverick's alone. His trials. His triumphs. This is an inspirational book that is truly "about the dog."
The best part, of course, is rooting for Maverick along the way. At first, so fearful and stressed from his previous living conditions, he struggles just to eat. And it takes months for his confidence to increase.
But before you know it, this lovable pooch is playing with other dogs, entering dog show competitions, giving Dan his trademark standing hugs — one of which is pictured on the book cover.
In fact, this whole sweet book, from beginning to end, feels like a giant, warm hug from Maverick. I'm confident you'll feel the same way.
You can buy this book [easyazon_link identifier="1477600329″ locale="US" tag="petsadvi-20″]here on Amazon[/easyazon_link].