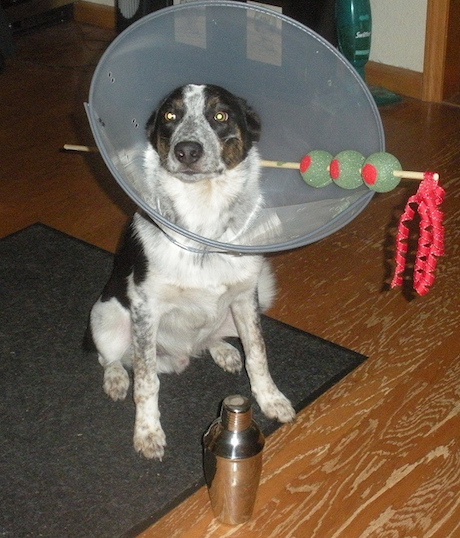 Readers who followed our Halloween costume contest know that the grand prize went to Rocket, the patient Border Collie whose owner, Mary Kern, dressed him up in a dog martini costume for Halloween.
When we asked Mary to which 501(c)(3) nonprofit she was planning to give Rocket's grand prize, a $500 donation from DogTime Media, she chose Chako Pit Bull Rescue, a Northern California pit bull advocacy and rescue organization. She says:
"I chose Chako Pit Bull Advocacy and Rescue because of the amazing work they do to not only rescue pit bulls, but also because they promote responsible ownership and offer obedience training for owners with pits. They are a dedicated group and save as many as they can."
Founded in College Station, Texas, in 1997, Chako Pit Bull Rescue, now located in Sacramento, California, finds homes for American Pit Bull Terriers. Before finding its foster dogs homes, Chako temperament-tests them to ensure they are like the vast majority of pit bulls: cuddly, friendly, kissy, wiggly and sweet.
Chako is also heavily involved with pit bull advocacy, taking a stand against breed-specific legislation (BSL), which bans or restricts ownership of certain breeds of dogs deemed "dangerous," primarily pit bulls.
People deemed to be in violation of BSL can have their dogs taken from them, even if they're just traveling through a city that has enacted BSL. Also, if you have a dog that the BSL police decide is a pit bull — even if the dog is a Bulldog, Staffordshire Terrier or some other breed that vaguely resembles a pit bull — they hold the owners in violation.
The rescue also offers a pit bull service dog training program that trains rescue pitties to be service dogs for people with disabilities. Owners can train a service dog, and people with disabilities can apply to adopt one.
One of the reasons we like Chako so much is its extensive support system for owners of pit bulls, who are much maligned in the media and often the subject of rude comments from total strangers. Some of Chako's programs include:
Dog behavior, training and Canine Good Citizenship classes
Assistance dealing with legal issues, including housing, dangerous dog citations and denial of services for service dogs that are pit bulls
Educational information about how to keep your dog when you think you can't
Expert witness testimony services
Temperament testing
Teaching classes on the online Pit Bull University
Like all nonprofit animal rescues, Chako is always in need of foster homes, supplies and cash donations. If you'd like to help, you can donate via PayPal. You can also send supplies to Chako Pit Bull Rescue, PO box 348643, Sacramento, CA 95834. Items on the rescue's wish list include:
Blankets
Dog crates
Leashes and collars
Chew toys
Bully sticks
Dog food
Dog beds
Chako is also desperate for foster homes, so if you live in the Sacramento area, please consider volunteering your time for this worthy cause.
We'd like to thank Mary and "dog martini costume" Rocket for selecting such an excellent organization for their grand prize winnings. Five hundred dollars goes a long way toward getting needy dogs the care they need before they go to their forever homes.