♥ No recalls. This brand may be discontinued.
The Meaty Bone brand line included 2 types of dog treats — and as of mid-2020, we believe this brand has now been discontinued.
The brand was owned a few years ago by Del Monte, which became Big Heart Pet Brands. Then, in 2015, J.M. Smucker Co. acquired all Big Heart properties in a huge, $5.8 billion deal.
We have much more information about Meaty Bone's long history below, including up-to-date recall information.
Meaty Bone Quick Facts
Brand line included: Meaty Bone Chew-Lotta, Meaty Bone dog biscuits
Cost: $
Company: Big Heart Pet Inc. (a subsidiary of J.M. Smucker Company)
Headquarters: One Maritime Plaza, San Francisco, CA 94111
Contact info: 1-800-252-7022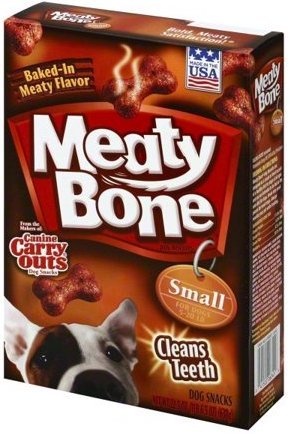 The Long History of Meaty Bone Dog Biscuits
Many years ago, Meaty Bone Brand Dog Biscuits were actually a Star-Kist Foods Inc. brand, falling under the H.J. Heinz Co. umbrella (Heinz had purchased Star-Kist in 1963).
A 1980 advertisement introducing the product declared it "the first dog biscuit made with real meat."
The ad further described Meaty Bone this way: "Outside, a delicious coating made with real meat. Inside, a crunchy hard biscuit to help keep teeth clean and strong." (Perhaps they were made of real meat, but Meaty Bone ingredients included animal fat, meat byproducts and animal plasma.)
In 1988, Star-Kist Foods was reorganized by Heinz, with all canned seafood falling under a new group called Star-Kist Seafood Co. and the company's pet food brands — including Meaty Bone — falling under a new group called Heinz Pet Products Co.
In 1995, Meaty Bone treats were reformulated "with more beef."
And in 1996, Heinz introduced 6-pound zippered bags of Meaty Bones, said to be "an attractive and convenient solution to overzealous dogs and overburdened consumers." The zippered bag "protects the product from puppy pilferage," according to the company.
Following a 2002 merger, Meaty Bone became part of the Del Monte Foods portfolio of pet food brands, which included well-known names like 9Lives, Kibbles 'n Bits, Pup-Peroni and Snausages.
Meaty Bone vs. Milk-Bone Rivalry
For many years, Meaty Bone was a head-to-head competitor to Milk-Bone. And at least on one occasion, this long-simmering, dog-eat-dog rivalry threatened to end up in court.
In 1990, Milk-Bone told reporters a lawsuit was being considered to stop Meaty Bone's "invalid" claims that its treats were preferred "2-to-1" by dogs because of Meaty Bone's meaty covering, which Milk-Bone didn't have.
Meaty Bone was the No. 2 dog biscuit as of 1990, with about 13% of the biscuit segment of the dog snacks market, according to Advertising Age. Milk-Bone was the market leader, with a dwindling 40% share, and Purina Biscuits was No. 3 with an 11% share.
In 2005, Del Monte claimed its Meaty Bone biscuits were 40% more effective at reducing tartar than Milk-Bone biscuits. "By including Meaty Bone dog biscuits twice a day as part of their dog's daily oral health regimen, owners can look forward to rewarding their dogs with good health, better breath and great taste," said Matthew Park, vice president of marketing, Del Monte Pet Products Division, according to a press release from June 2005.
Innovation — And the End of a Rivalry
In October 2005, Del Monte introduced a new Meaty Bone Denta-Delicious dog chew, a bone-shaped treat with a tasty meaty flavor that was said to be scientifically proven to reduce tartar buildup by 70%.
Was YOUR Pet Food Recalled?
Check Now: Blue Buffalo • Science Diet • Purina • Wellness • 4health • Canine Carry Outs • Friskies • Taste of the Wild • See 200+ more brands…
Meanwhile, Del Monte kept innovating, introducing the Meaty Bone Chew-Lotta, a "deliciously long-lasting, gnawable dog snack." The Chew-Lotta treats featured "a plastic tray that gives a 'butcher fresh' appearance to the product."
In spring 2006, Del Monte announced a "major step forward" for the company — and the effective end of a long-running pet-brand rivalry. Milk-Bone was being acquired from Kraft Foods Inc. for $580 million, which meant Del Monte would now own both Milk-Bone and Meaty Bone.
"Milk-Bone is an iconic brand with a 100-year heritage, [and] it is also one of the most trusted and well-recognized brand equities in the entire pet products category," said Rick Wolford, chairman and CEO of Del Monte Foods.
Wolford added that "Milk-Bone's focus on oral care will be a great addition to Meaty Bone's great taste at great value consumer offering."
Recent Years — More Changes
In 2014, Del Monte Foods renamed itself Big Heart Pet Brands, a "standalone pet products company," following a sale of all of Del Monte's people-food assets.
Just a year later, in 2015, J.M. Smucker Co. acquired all Big Heart properties in a $5.8 billion deal.
And now? As of late April 2020, the Meaty Bone website simply redirects to Canine Carry Outs, which has been a much bigger seller for the parent company in recent years. We also noticed that Meaty Bone has been listed as "out of stock" on many popular pet retail websites. In addition, the Chew-Lotta treats now carry the Canine Carry Outs name rather than Meaty Bone.
Was Meaty Bone Ever Recalled?
No. This brand was never recalled in its long history, according to our research of recall databases and news archives going back 40 years. As we mentioned, it now appears that Meaty Bone has been discontinued. We will correct this if our understanding changes.
If you have not done so already, we urge you to sign up now for Petful's FREE recall alerts by email. Our free alerts are saving pets' lives.
Did You Have a Problem With Meaty Bone?
See our reporting page for contact info.
Leave a comment below to share your experience with others.
References
"StarKist Company History." StarKist Co. 2017. https://starkist.com/sites/all/themes/zen_child/assets/pdf/StarKist100year.pdf.
"New Meaty Bone: The First Dog Biscuit Made With Real Meat (Ad)." The (Newburgh, New York) Evening News. Dec. 3, 1980. 8A. https://news.google.com/newspapers?nid=1982&dat=19801203&id=HsZkAAAAIBAJ&sjid=DG4NAAAAIBAJ&pg=4079,262388&hl=en.
"H.J. Heinz Announces Reorganization of Star-Kist Foods." PR Newswire. Nov. 1, 1988.
"Product Alert: Meaty Bone Brand Dog Biscuits — Beef." RDS Business & Industry Database 25, no. 48 (Nov. 27, 1995): ISSN: 0740-3801.
"Product Alert: Meaty Bone Dog Biscuits." RDS Business & Industry Database 26, no. 5 (March 11, 1996): ISSN: 0740-3801.
Dagnoli, Judann and Julie Liesse. "Taste-Test Dogfight; Milk-Bone Threatens to Sue Heinz Rival." Advertising Age. Aug. 6, 1990. 34.
Palmer, Thomas. "Heinz TV Ads Have Nabisco Growling." The Boston Globe. Aug. 11, 1990. 9.
Liesse, Julie and Judann Dagnoli. "Gnawing Milk-Bone; Purina, Heinz Nip at Leader's Share." Advertising Age. April 2, 1990. 40.
"New Research Indicates Meaty Bone Dog Biscuits Offer 40 Percent More Tartar Reduction Than Milk-Bone." Business Wire. June 1, 2005.
"New Meaty Bone Denta-Delicious Dog Bone Freshens Breath and Reduces Tartar by 70 Percent." Business Wire. Oct. 13, 2005.
"Dogs Will Sit, Shake and Roll Over for New Del Monte Pet Products." Business Wire. July 12, 2004. https://www.businesswire.com/news/home/20040712005459/en/Dogs-Sit-Shake-Roll-New-Del-Monte.
"Kraft Sells Milk-Bone for $580 Million." Bloomberg News. March 17, 2006. https://www.chicagotribune.com/news/ct-xpm-2006-03-17-0603170186-story.html.
"Del Monte Foods Company Investor Conference Call/Webcast." FD (Fair Disclosure) Wire. March 16, 2006.
Fusaro, Dave. "Del Monte Foods Becomes Big Heart Pet Brands." Food Processing. March 9, 2014. https://www.foodprocessing.com/industrynews/2014/del-monte-becomes-big-heart-pet-brands/.
"The J.M. Smucker Company Completes Acquisition of Big Heart Pet Brands." PR Newswire. March 23, 2015. https://www.prnewswire.com/news-releases/the-j-m-smucker-company-completes-acquisition-of-big-heart-pet-brands-300054566.html.