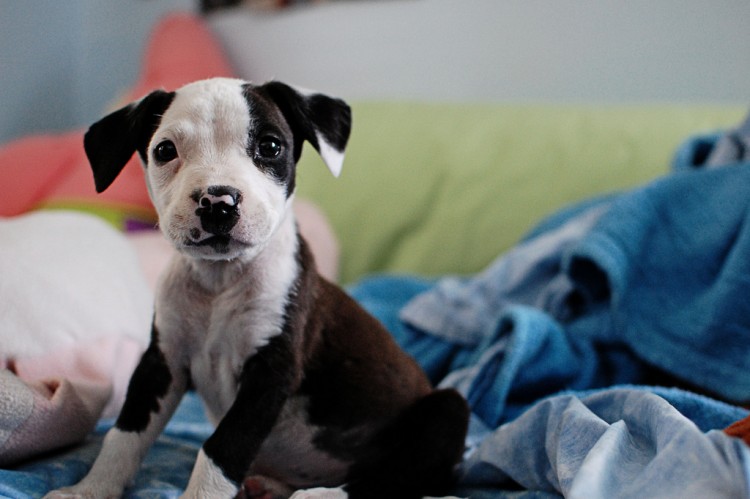 Pit bulls, Bulldogs, mastiffs and other non-bully breeds, such as Rottweilers, German Shepherds and Doberman Pinschers, are all loving, loyal and amazing dogs.
But they've all faced discrimination based on their breed. However much these dogs' families love their pets, they will run into problems, including everything from traveling to having to buy homeowner's insurance.
These breeds need and deserve loving homes as much as any other dog. And, speaking from experience, I'll say the reward of having them as part of your family certainly outweighs the cons.
Initial Judgments and Lasting Impressions
People cross the street to avoid my dog Babe.
She's a 40-pound pit bull with big, worried eyes and a broad chest. Her favorite activities include sleeping and snuggling. But she's still a pit bull and, to many people who have had no exposure to the breed other than gruesome headlines, my dog represents danger.
People pull their children away from Babe — they scoop up their small dogs and eye me warily. It's an everyday experience for many of us who have bully breeds.
Despite these consistently negative responses, I've truly enjoyed changing some minds about pit bulls.
Given the opportunity, Babe is a social butterfly who enjoys interactions with strangers. She wags and happily accepts petting before trotting away. Many occasions that began with a nervous meeting have ended with strangers telling me how lovely and friendly Babe is.
Sure, I'm not going to convince everyone, but these small victories give me hope for all misunderstood bully breeds.
Don't Miss: Pit Bull's New Besties: Cute Chicks
Renting
If you have pets, you know that renting an apartment that allows your whiskered companions is difficult. If your pet happens to be any type of bully or discriminated-against breed, that difficulty is going to quadruple.
Many rentals that do allow pets still have certain restrictions, including:
Finding a pet-friendly apartment is a cinch compared to locating a pet-friendly apartment that allows any pet, including pit bulls, Bulldogs, German Shepherds, etc.
Don't Miss: 6 Lies Pit Bull Haters Love to Tell
Insuring Homes
If you're not a renter, then you probably have a homeowners' insurance policy. Did you know that a lot of providers don't cover certain dog breeds?
Fortunately, there are resources available for those of us who love our little bullies. Recently, My Pit Bull Is Family, a nonprofit group working to end pit bull discrimination, started a "database of non-discriminatory housing options for families across the country." The website has an interactive U.S. map with pit bull–friendly rentals listed in most states.
And for homeowners, many insurance providers are willing to cover your pups, even if others aren't. State Farm, for instance, "determines risk based on a dog's bite history rather than breed." A simple search online will pull up dozens of sites with recommended insurance providers that feel the same way.
Was YOUR Pet Food Recalled?
Check Now: Blue Buffalo • Science Diet • Purina • Wellness • 4health • Bravo • Canine Carry Outs • Taste of the Wild • See 200+ more brands…
Don't Miss: What to Expect When You're Adopting a Pit Bull
Traveling
Some dog breeds — pit bulls in particular — are banned in certain counties and cities, including regions in the United States and Canada. Even if you don't live in those places, you could still be fined — or worse — for transporting your dog through those areas.
Camping sites and hotels also sometimes restrict which breeds can stay in their facilities. If you're planning to bring Max on your rugged lakeside adventure, make sure he's as welcome as you are.
No matter where or how far you're traveling, make sure you plan in advance to avoid any mishaps along the way.
This delightful pit bull proves that not all pooches loathe bath time:
So, Why Risk It?
Looking at this list of roadblocks along the path of bully breed companionship, why people choose these breeds may be a bit of a head-scratcher.
Boomer, meaning "full-grown kangaroo," is a great male dog name for dogs who are tough or outgoing.
But I'll tell you straight from the horse's mouth: We love our dogs.
We know their sweet dispositions and charming temperaments, despite the generally negative light in which the media has cast them. We love our agile Dobermans, courageous shepherds, wiggly pit bulls and playful Bulldogs as much as others love their loyal retrievers, curious Beagles and affectionate poodles.
Having a pet means making certain sacrifices, something that all of us deal with. But, in the end, whatever sacrifices are made, the payoff is always worth it.